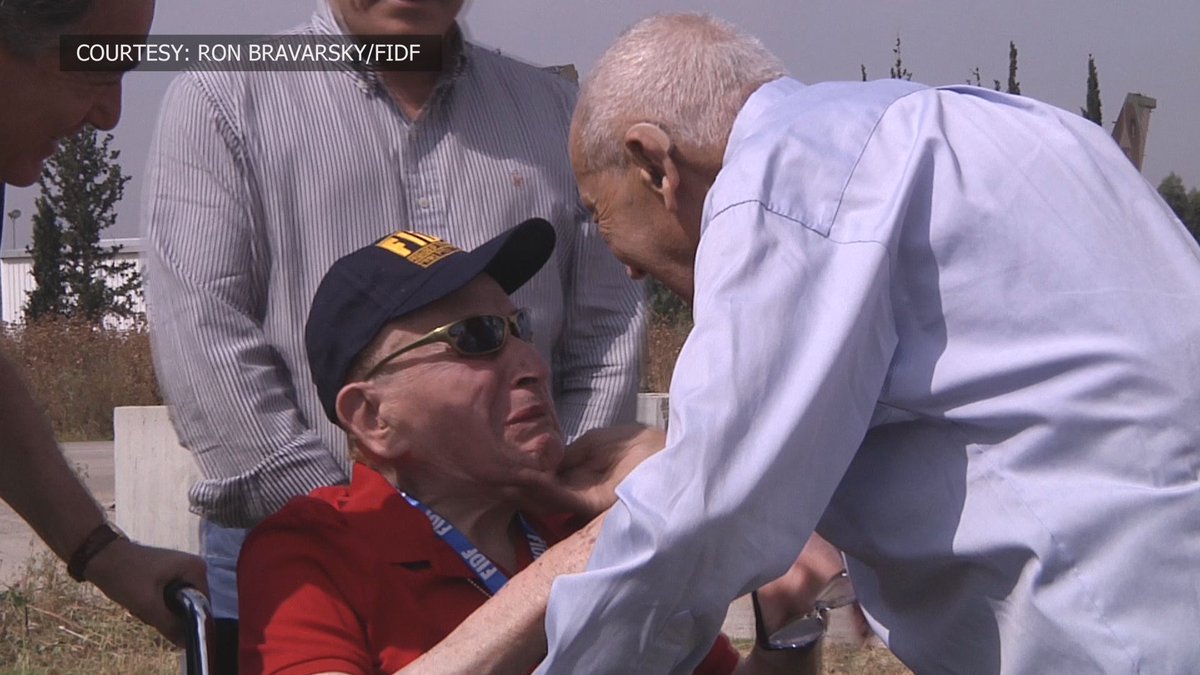 WWII vet reunited with man he saved from concentration camp
Back in 2014, Sid earned an honorary degree from Regis University.
Sid Shafner, 94, was one of the first soldiers to reach the camp in 1945.
"I want to see him again in maybe 10 years, 15 years," said Sid.
Read the full article, click here.
---
@10NewsWTSP: "WWII Vet reunited with man he saved from concentration camp"
---
<p>(<a data-cke-saved-href="http://www.wltx.com/news/wwii-vet-reunited-with-man-he-saved-from-concentration-camp/195147416" href="http://www.wltx.com/news/wwii-vet-reunited-with-man-he-saved-from-concentration-camp/195147416">KUSA</a>) — A Denver World War II veteran just returned from a 10-day trip in Europe where he was honored for helping liberate prisoners from the Dachau Concentration Camp in southern Germany.</p><p>Sid Shafner, 94, was one of the first soldiers to reach the camp in 1945. Two teenagers waved down Sid and the other soldiers in his Jeep.</p><p>&ldquo;They were skinny, gaunt,&rdquo; Shafner told 9NEWS before his trip. &ldquo;They could hardly stay up on their feet.&rdquo;</p><p>The Friends of the Israel Defense Forces organized the trip to Europe and invited Sid as a special guest at the official Holocaust Remembrance Ceremony at the former Auschwitz concentration camp.</p><p><iframe height="308" data-src="https://interactive.tegna-media.com/video/embed/embed.html?id=2191960&amp;type=video&amp;title=WATCH%3A%20Veteran%20reunites%20with%20man%20he%20saved%20from%20concentration%20camp&amp;site=101&amp;playerid=6918249996581&amp;dfpid=32805352&amp;dfpposition=Video_prestream_external§ion=home" style="border-width:0" width="550">&lt;p&gt;On an Israeli Military Base, Shafner was reunited with 90-year-old Marcel Levy, one of the teens he saved at Dachau. Levy lives in Israel.&lt;/p&gt;&lt;p&gt;&amp;quot;I&amp;#39;ve been in touch with him all these years,&amp;quot; said Shafner. &amp;quot;Through postcards, greeting cards, and now email on the computer.&amp;quot;&lt;/p&gt;&lt;p&gt;The reunion was filled with tears and happiness as the two old friends embraced.&lt;/p&gt;&lt;p&gt;&amp;quot;You know, everything that I have today is because of you,&amp;quot; Marcel told Sid while holding his hand. &amp;quot;You saved my life. Because you had the patience to speak to me, to take to me.&amp;quot;&lt;/p&gt;&lt;p&gt;&amp;quot;Don&amp;#39;t praise me,&amp;quot; said Sid. &amp;quot;If it wasn&amp;#39;t me, it would have been someone else.&amp;quot;&lt;/p&gt;&lt;p&gt;Sid also met with many of Marcel&amp;#39;s family members. He now has 11 grandchildren.&lt;/p&gt;&lt;p&gt;&amp;quot;All our life, we heard about, we dreamed about you,&amp;quot; said Marcel&amp;#39;s daughter to Sid. &amp;quot;We know that because of you we have this nice family. And we are very appreciative and we thank you.&amp;quot;&lt;/p&gt;&lt;p&gt;Sid and Marcel have remained life-long friends but had only seen each a handful of times over the years, the last visit was in 1995. Sid hopes the next visit won&amp;#39;t be that far away.&lt;/p&gt;&lt;p&gt;&amp;quot;I want to see him again in maybe 10 years, 15 years,&amp;quot; said Sid.&lt;/p&gt;&lt;p&gt;During the trip Sid also met with Israeli Prime Minister Benjamin Netanyahu and Israeli President Reuven Rivlin.&amp;nbsp; The reunion and meeting were part of the FIDF &amp;quot;From Holocaust to Independence&amp;quot; Delegation to Poland and Israel.&lt;/p&gt;&lt;p&gt;Following the trip, he received a hero&amp;#39;s welcome at Brookdale Mountain View where he lives.&lt;/p&gt;&lt;p&gt;Back in 2014, Sid earned an honorary degree from Regis University. You can watch that story below.&lt;/p&gt;&lt;p&gt;&lt;iframe height=&quot;308&quot; src=&quot;https://interactive.tegna-media.com/video/embed/embed.html?id=2192064&amp;amp;type=video&amp;amp;title=Veteran%20receives%20honorary%20degree%20from%20Regis&amp;amp;site=101&amp;amp;playerid=6918249996581&amp;amp;dfpid=32805352&amp;amp;dfpposition=Video_prestream_external&sect;ion=home&quot; style=&quot;border-width:0&quot; width=&quot;550&quot;&gt;
---
WWII vet reunited with man he saved from concentration camp