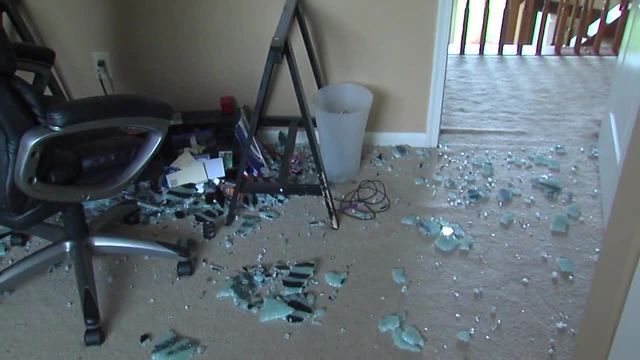 Woman's IKEA glass table shatters spontaneously
People all over the country are complaining that their glass tables have shattered spontaneously, sometimes when there's no one in the room.
And even popular brands like IKEA are not immune.It just happened to one family, with a "Glasholm" glass-top desk from IKEA.Holly Burns still has hundreds of pieces of broken glass all over her teenage son's bedroom.
"We were just fortunate no one was around," she said.Chance occurrence, or alarming trend?Burns thought it was just a one-time freak occurrence, until she went online and started finding other complaints about the exact same thing happening.The Consumer Product Safety Commission has more than a dozen complaints about Ikea glass tables and products…
This past summer, we reported on a family whose glass patio table (not from IKEA) also shattered spontaneously.
The CPSC, meantime, has hundreds of complaints about shattering glass tables, shower doors, and oven doors.
Consumers are reporting glass tables that shattered spontaneously, including some from IKEA. Why?

@abcactionnews: Woman's IKEA glass table shatters spontaneously
People all over the country are complaining that their glass tables have shattered spontaneously, sometimes when there's no one in the room. And even popular brands like IKEA are not immune.

It just happened to one family, with a "Glasholm" glass-top desk from IKEA.

Holly Burns still has hundreds of pieces of broken glass all over her teenage son's bedroom.

"I was cooking dinner, when I heard a big sound like a big boom, and my first thought was a tree had fallen into the house, that's how loud it was," she said.

She rushed upstairs.

"His glass-top desk had just shattered. Basically exploded," she said.

Good thing her teenage son was away at school, as she found shards of glass even on his bed.

"We were just fortunate no one was around," she said.

Chance occurrence, or alarming trend?

Burns thought it was just a one-time freak occurrence, until she went online and started finding other complaints about the exact same thing happening.

The Consumer Product Safety Commission has more than a dozen complaints about Ikea glass tables and products shattering. Several consumers have even posted YouTube videos of their experience.

"The table exploded during dinner," one YouTube posting said.

IKEA is now investigating Holly Burn's report. However, IKEA told the Daily Mail earlier this year:

'The safety of our products is always our main priority and our entire range…