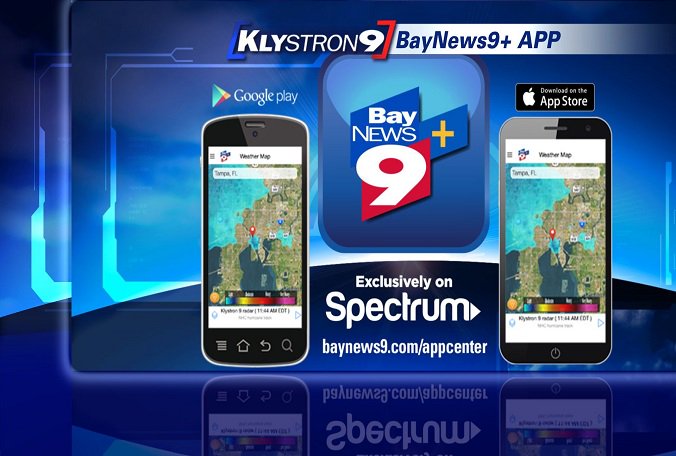 Weather forecast: Severe weather, damaging winds possible
WEATHER: LIVE Klystron 9 radar | Get Bay News 9+ app | Sign up for news alerts
GET WEATHER ALERTS: Sign up to receive weather text alerts from Bay News 9
STAY WITH BAY NEWS 9 for the latest on Sunday afternoon's threat of severe weather .
WEATHER ON THE GO: Download the Bay News 9 app and get Klystron-9 alerts wherever you are.
Get instant Severe Weather & Breaking News alerts delivered directly to your cell phone or email with Bay News 9 NOW .
Strong storms are anticipated this afternoon in the Bay area. Mid-afternoon into the evening looks to be the best chances for stronger storms.

@BN9: With strong weather expected today, get the Bay News 9+ app to be prepared.
STAY WITH BAY NEWS 9 for the latest on Sunday afternoon's threat of severe weather.

A strong line of storms is making its way toward Florida.

From 12:30 p.m. until 8 p.m. a tornado watch has been issued for just north of our area.

A complicated weather pattern is in place across the Southeastern United States. A warm front extends across the southeast from a larger low pressure area over Northeast Texas.

A series of disturbances in the atmosphere have been responsible for a few rounds of severe weather over the SE over the last two days. Another impulse in the atmosphere combined with a very strong jet stream will develop a squall line in the northern and central Gulf of Mexico today — that will be the line we will be tracking toward our area.

As of 11:30 a.m., the Sunshine Skyway Bridge was closed to high profile vehicles.

In Clearwater, high winds whipped up the flames of a brush fire. Clearwater Public Safety posted on its Twitter page that no homes had been damaged as of 2:30 p.m. In Winter Haven, power lines were down on Lake Marianna Drive at 3:30 p.m.

Damaging wind would be the main threat with any storms that form today.

Outside of the stormy weather today, windy conditions have made boating dangerous today as a gale warning is in place.

As our wind switches to the west tonight, slightly elevated tides are possible.

Additionally, some much needed rain will come through as well.

Cooler weather, with highs in the 60s and 70s will be with us starting tomorrow and lasting for a few days.