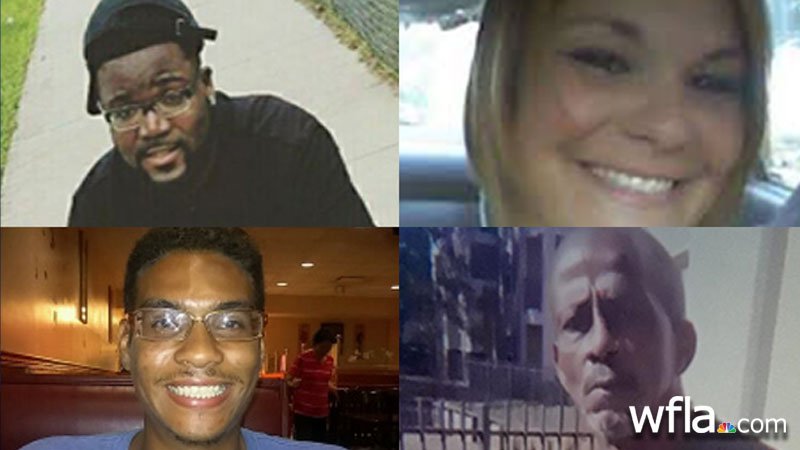 What we know about the Seminole Heights murder victims
Tampa Police Chief Brian Dugan says Mitchell was a good person from a good family.
Naiboa was found on a sidewalk on North 15th Street, near the home where Mitchell lived.
Police originally said Naiboa took the wrong bus home from work the night he was killed, but his family later told News Channel 8 that his normal route had been shut down.
Police say Felton was shot from behind as he crossed a street in Seminole Heights early in the morning.
Felton was killed just a few blocks away from a memorial that has been set up in honor of Mitchell, Hoffa and Naiboa.
Police are now investigating a fourth murder in Seminole Heights.

@WFLA: What we know about the Seminole Heights murder victims
TAMPA, Fla. (WFLA) — Police are now investigating a fourth murder in Seminole Heights.

Last month, three people were killed in a string of homicides in the neighborhood. On Tuesday morning, a fourth victim was killed in the same area. At this time, police are saying all of the murders are related.

Here's what we know about the victims:

BENJAMIN MITCHELL:

The first Seminole Heights murder victim was 22-year-old Benjamin Mitchell. He was killed Monday, Oct. 9.

Mitchell was waiting for a HART bus on North 15th Street at Frierson Avenue when he was shot.

Witnesses saw a man run from the area where the shooting took place. They told police he looked to be in his early 20s and was wearing a dark, hooded jacket.

Police have released video of a "person of interest" seen walking in the area before Mitchell was murdered, and then running from the area right after.

Tampa Police Chief Brian Dugan says Mitchell was a good person from a good family.

MONICA HOFFA:

Monica Hoffa, 32, was found dead on Friday, Oct. 13.

A City of Tampa employee found Hoffa's body in a vacant lot on East New Orleans Avenue around 9:30 a.m. She was found within half a mile of where Mitchell was murdered.

Two neighbors told News Channel 8 they heard gunshots two nights before Hoffa's body was…