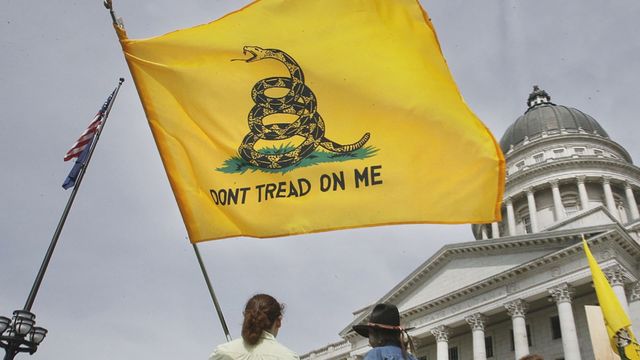 Flag with special meaning stollen from veteran
"Actually I'd like them to look up what the flag really means," said Bevis with a smile. "
"It's not just about the words on the flag or the emblem on the flag," said Bevis. "
So the Christmas I opened up a present and it was a Gadsden Flag," recalls Bevis.
Rene posted a message about the flag on social media in hopes that the person who took it would hear about it's special meaning.
"What upsets me the most is someone would have the disrespect," said Rene Bevis who gave the flag to her husband as a special gift.
Read the full article, click here.
---
@10NewsWTSP: "Vet's flag with special meaning stolen"
---
PALM HARBOR, Fla. — Desert storm Veteran David Bevis is the type of man who strongly believes in not only the rights of Americans but their responsibilities too. "Courage, the desire to be free people but still unite for a common cause. What that represents to me is what America is all about," says Bevis who served in the first Gulf War. It's why last Christmas he had a special request from his wife. "I said, you know what I really want, I want a Gadsden Flag. I've always admired the flag and what it stood for and I thought I'd like to have one. So this Christmas I opened up a present and it was a Gadsden Flag," recalls Bevis. The flag traces it's history back to the American Revolution. For some, it represents right wing extremism but for others it serves as a symbol of American patriotism, the right to disagree with government and other civil liberties. It's a flag that flew proudly in front of the Bevis home until earlier this month when it disappeared, likely stolen, just before Memorial Day. "What upsets me the most is someone would have the disrespect," said Rene Bevis who gave the flag to her husband as a special gift. Rene posted a message about the flag on social media in hopes that the person who took it would hear about it's special meaning. "It's not just about the words on the flag or the emblem on the flag," said Bevis. "It's what the flag means and how important it is to respect those meanings." Especially on a day like Memorial Day when people think more about boating and BBQ's forgetting the holiday's true meaning and the meaning of this flag. "The actions behind the symbolism are what made Memorial Day, Memorial Day. If it wasn't for people who were willing to sacrifice it all from Lexington to today, we wouldn't be who we are," said Bevis. The Bevis family remains hopeful that just maybe the person who now has the flag will see a different side. "Actually I'd like them to look up what the flag really means," said Bevis with a smile. "Where it comes from, what's it's history is and then some night just like when they took it, I'd like them to put it back and have a little faith restored."
---
Flag with special meaning stollen from veteran