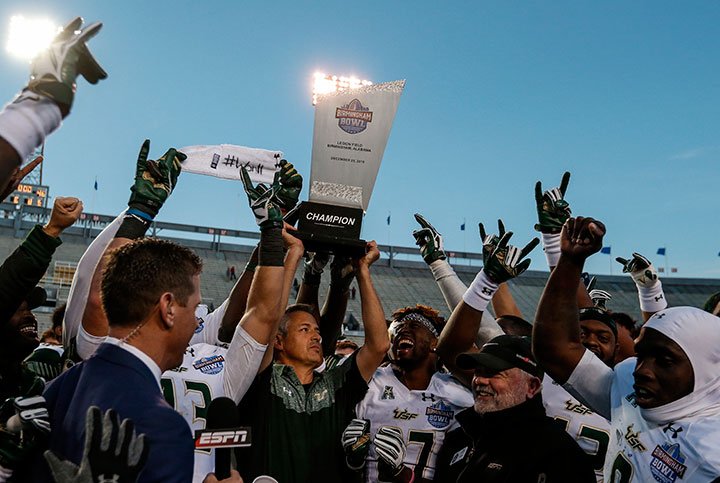 Bulls getting major love in way-too-early '17 rankings
South Florida Bulls fans, you've come to the right place: the USF Sports Bulletin blog.
Bulls getting major love in way-too-early '17 rankings
Tampa Bay Times sportswriter Joey Knight, who covers USF, will post news and thoughts on the Bulletin, and we invite your participation in the comments area.
College Football Playoff: Players share what they would change about the sport 1/09/17
I want to see more articles tagged
A few slivers of the celebratory Clemson confetti still was floating in the dark Tampa sky when some college pundits began releasing their preseason rankings for 2017. College football appetites remain insatiable year-round, so we get it. And face it, most of it's fun reading. And even more fun if you're a Bulls fan, who are finding their team getting a lot of love in these grain-of-salt forecasts. USF is 10th — TENTH — in the initial preseason top 25 rankings compiled by CBS Sports' Dennis Dodd, and 20th on the ballot of ESPN's Mark Schlabach. Fox Sports' Stewart Mandel has USF 21st.

@TBTimes_Sports: USF getting major love in way-too-early 2017 rankings. #USF @USFFootball @TBTimes_Bulls
A few slivers of the celebratory Clemson confetti still was floating in the dark Tampa sky when some college pundits began releasing their preseason rankings for 2017.

College football appetites remain insatiable year-round, so we get it. And face it, most of it's fun reading.

And even more fun if you're a Bulls fan, who are finding their team getting a lot of love in these grain-of-salt forecasts.

USF is 10th — TENTH — in the initial preseason top 25 rankings compiled by CBS Sports' Dennis Dodd, and 20th on the ballot of ESPN's Mark Schlabach.

Fox Sports' Stewart Mandel has USF 21st.

"Charlie Strong walks into a loaded locker room," Dodd writes. Schlabach notes (correctly) that USF has a weak non-conference schedule and gets American Athletic Conference foes Houston, Temple and Tulsa at home.

Look for similar rankings to emerge in coming days. To this point, the only one we've seen so far that doesn't include USF is this one from the Orlando Sentinel.