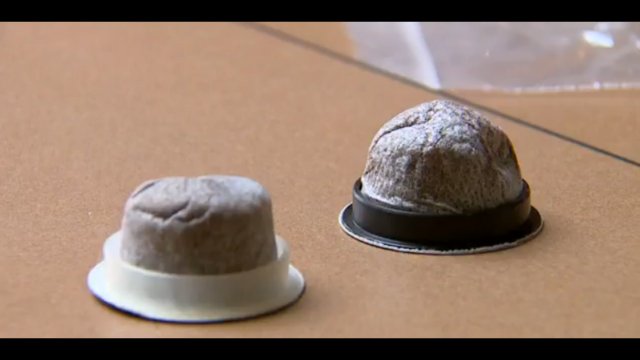 University tests compostable coffee pods
The new pods will disappear as they're made of coffee waste themselves.
Riggs wants to see if the trash makes it to the right containers.
They're concerned consumers won't be able to tell the difference between recyclable pods and the new compostable kind.
SEATTLE — University of Washington coffee drinkers are testing out the first fully compostable pods, according to a report from KREM.
Nowadays, it's used for storm water treatment, roofs and even roads.
Read the full article, click here.
---
@10NewsWTSP: "University tests compostable coffee pods"
---
<p>&nbsp;</p><p>SEATTLE — University of Washington coffee drinkers are testing out the first fully compostable pods, <a data-cke-saved-href="http://www.krem.com/news/local/northwest/first-fully-compostable-coffee-pods-tested-at-uw/217959452" href="http://www.krem.com/news/local/northwest/first-fully-compostable-coffee-pods-tested-at-uw/217959452">according to a report from KREM.</a></p><p>Several departments picked up boxes of the item Thursday. A local composting company is hosting the trial to see whether it makes their work better or worse. They&#39;re concerned consumers won&#39;t be able to tell the difference between recyclable pods and the new compostable kind.</p><p>&quot;They get confused because they look alike,&quot; Michell Riggs said.</p><p>Compost isn&#39;t just used for gardens. Nowadays, it&#39;s used for storm water treatment, roofs and even roads. That&#39;s why it matters that coffee drinkers can tell the difference between recyclable and compostable containers.<br /> &nbsp;&nbsp;<br /> Riggs wants to see if the trash makes it to the right containers.</p><p>&quot;If it doesn&#39;t, then we need to go back to the drawing board and sit down and make recommendations of what do we think is going to work to get people to understand this difference,&quot; she said.</p><p>Some estimate plastic coffee pods number about 60 billion in landfill waste. These new pods will disappear as they&#39;re made of coffee waste themselves.</p><p>Copyright 2016 KING</p>
---
University tests compostable coffee pods