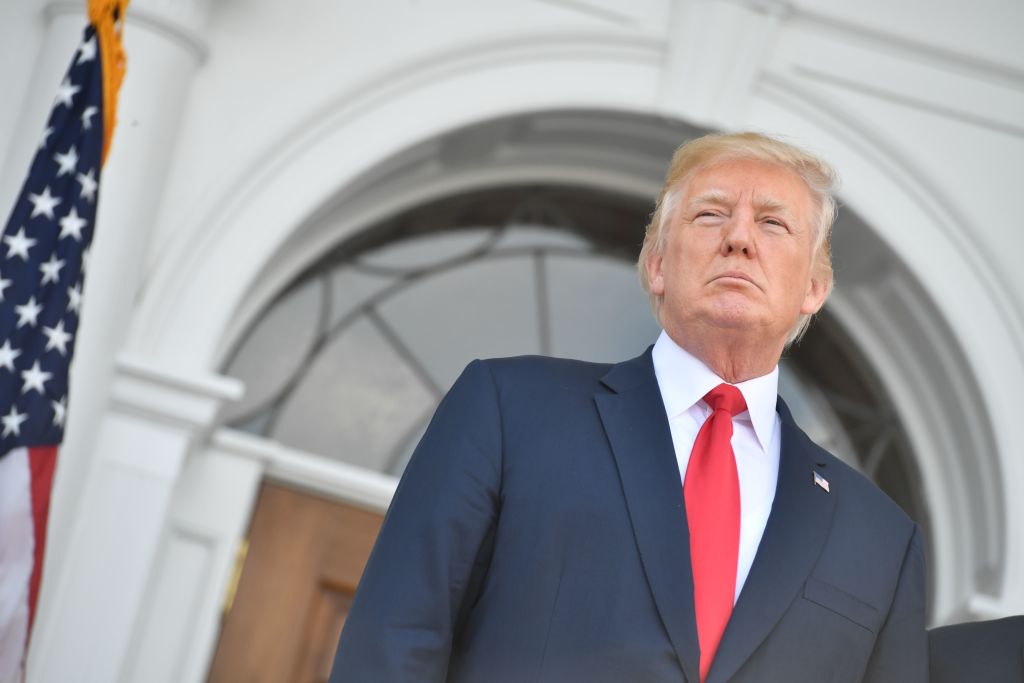 Trump: Military solutions 'locked and loaded'; China appeals for 'caution'
President Trump tweeted that "military solutions" are "fully in place, locked and loaded" Friday, as China appealed for North Korea and the United States to "exercise caution" in their escalating war of words.
It came after North Korea said it was writing a plan to fire missiles toward the western Pacific island of Guam, a U.S. territory.
Trump tweeted Friday: "Military solutions are now fully in place,locked and loaded,should North Korea act unwisely.
U.S. allies and China have already appealed to Trump and North Korean leader Kim Jong Un to soften their rhetoric.
South Korea's foreign ministry urged the North to stop using "threatening words" Thursday and called for Pyongyang to enter into dialogue to ease tensions in the region.
The back-and-forth between the leaders of the U.S. and North Korea ramped up again Friday morning with President Trump issuing a new warning via Twitter.

@10NewsWTSP: Trump: Military solutions 'locked and loaded'; China appeals for 'caution'
President Trump tweeted that "military solutions" are "fully in place, locked and loaded" Friday, as China appealed for North Korea and the United States to "exercise caution" in their escalating war of words.

It came after North Korea said it was writing a plan to fire missiles toward the western Pacific island of Guam, a U.S. territory.

Trump tweeted Friday: "Military solutions are now fully in place,locked and loaded,should North Korea act unwisely. Hopefully Kim Jong Un will find another path!"

On Thursday, Trump said his earlier warning to unleash "fire and fury" on Pyongyang if it doesn't abandon its nuclear program perhaps "wasn't tough enough."

— Donald J. Trump (@realDonaldTrump) August 11, 2017

Chinese Foreign Ministry spokesman Geng Shuang said the situation on the Korean Peninsula "is complex and sensitive." China is Pyongyang's most important ally.

"The Chinese side hopes all related parties will exercise caution in their words and actions and make greater efforts to alleviate the tense situation and enhance mutual trust, while not traveling the old path of making displays of strength and constantly exacerbating the situation," Geng said in a statement Friday.

U.S. allies and China have already appealed to Trump and North Korean leader Kim Jong Un to soften their rhetoric.

Trump was defiant Thursday, pushing back against criticism that his words could further inflame tensions.

"It's about time that somebody stuck up for the people of this country and for the people of other countries," Trump said from his golf club in Bedminster, N.J.

"So if anything, maybe that statement wasn't tough enough. And we're backed 100% by our military."

When asked what could be tougher than the "fire and fury" he had promised, Trump said: "You'll see. You'll see."

Trump said he would consider negotiations with North Korea and declined to discuss the possibility of a preemptive strike against the reclusive nation.

Guam Homeland Security spokeswoman Jenna Gaminde said the North's missiles would take about 14 minutes to reach the island.

An editorial in the Global Times, a newspaper run by China's ruling Communist Party, said Thursday: "The real danger is that such a reckless game may lead to miscalculations and a strategic "war." That is to say, neither Washington nor Pyongyang really wants war, but a war could break out anyway as they do not have the experience of putting such an extreme game under control."

"Beijing is not able to persuade Washington or Pyongyang to back down at this time," the editorial said. "It needs to make clear its stance to all sides and make them understand that when their actions jeopardize China's interests, China will respond with a firm hand."

South Korea's foreign ministry urged the North to stop using "threatening words" Thursday and called for Pyongyang to enter into dialogue to ease tensions in the region.

North Korean media said the purpose of the missile launch will be "to interdict the enemy forces on major military bases on Guam and to signal a crucial warning to the U.S."
Trump: Military solutions 'locked and loaded'; China appeals for 'caution'