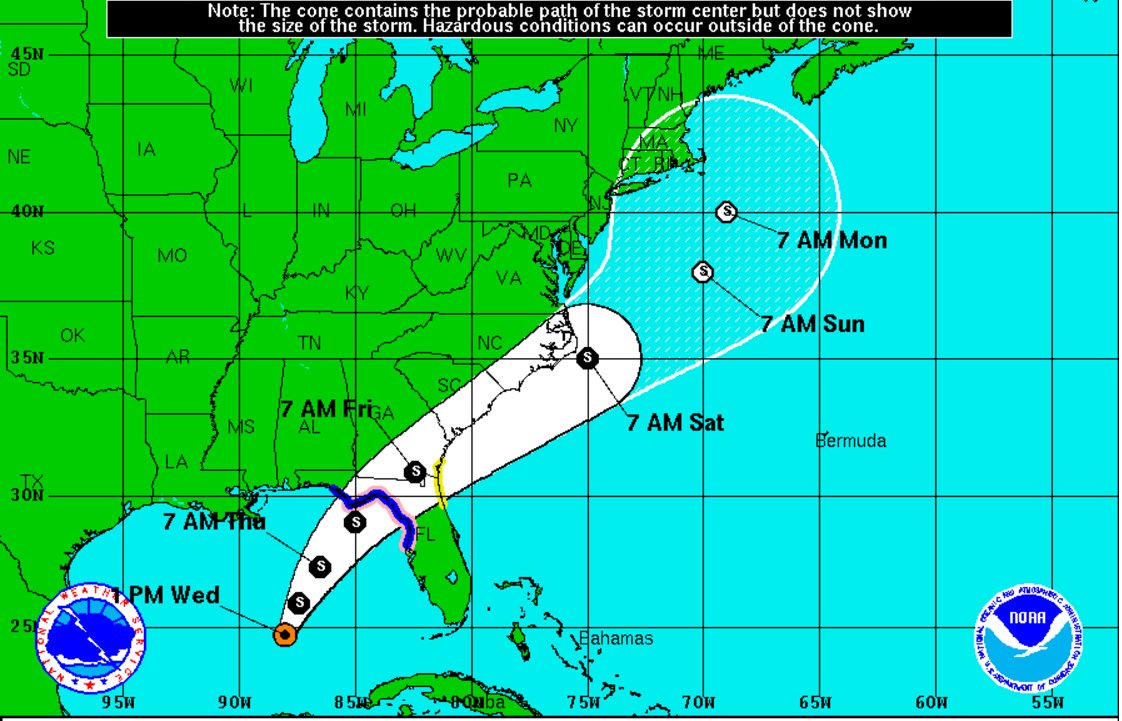 Tampa Bay Times The threat of tropical weather will likely affect scheduled events across Tampa Bay this week.
The Tampa Bay Times presents a one stop news and information resource space to get Tampa Bay prepared for the 2016 Florida hurricane season.
Boys & Girls Clubs of Tampa Bay to close The Boys & Girls Clubs of Tampa Bay will cease operations at all club sites, middle school sites and at its administrative office on Thursday due to potential flooding, a spokesperson said.
MacDonald Training Center will be closed Thursday because of Tropical Storm Hermine.
Torrential downpours associated with Tropical Depression Nine are pummeling the Tampa Bay area this morning, creating a treacherous commute as the system – which forecasters say is expected to become a tropical storm this morning – continues its northeasterly trek toward Florida's coast.
A tropical system that had been meandering across the Caribbean last week is now gaining strength in the Gulf of Mexico and preparing to dump heavy rains and produce tropical storm-force winds across the Tampa Bay area later this week.

@TB_Times: Tropical Storm #Hermine expected to make landfall on Thursday in NW Florida #tbttropical
Tampa Bay Times The threat of tropical weather will likely affect scheduled events across Tampa Bay this week.The list of postponements and cancellations below will be updated as more information becomes available.Celebrate Oldsmar, R.E. Olds Park, Oldsmar, all Friday events moved to Sunday, Sept. 4. (details)Stuff the Bag Sale, CASA Community Center, St. Petersburg, rescheduled for Sept. 8 from 10 a.m. to 3 p.m. (details)Rock The Park, Curtis Hixon Waterfront Park, Tampa, canceled for September, but will return on Oct. 3. (details)Shine Mural Festival Creative Block opening party, Central Avenue at 5th Street N., St. Petersburg, rescheduled for Sept. 5 from 9 a.m. to 2 p.m (details)Buccaneers vs. Redskins preseason football, Raymond James Stadium, Tampa, rescheduled for Wednesday, Aug. 31, at 8 p.m. (details)Good Burger Awards, Jannus Live, St. Petersburg, rescheduled for Sept. 8. (details)Sunset Beach Concert Series, Sunset Beach, Tarpon Springs, rescheduled for Sept. 8 at 7 p.m. (details)Safety Awareness Day, Pasco-Hernando State College Spring Hill Campus, rescheduled for Sept. 28 from 11 a.m. to 2 p.m. (details)Swing Night, Gulfport Casino Ballroom, Gulfport, canceled, but will resume on Sept. 7 from 6 to 11 p.m. (details)Wounded Warriors Alive Ride, 10400 49th St N, Clearwater, rescheduled for Sept. 8 at 9 a.m. (details)Coffee With the Commissioner, McDonald's at 1905 N. Dale Mabry Highway, canceled with a new date to be decided. (details)Live Blog: Tropical depression affecting entire Tampa Bay area