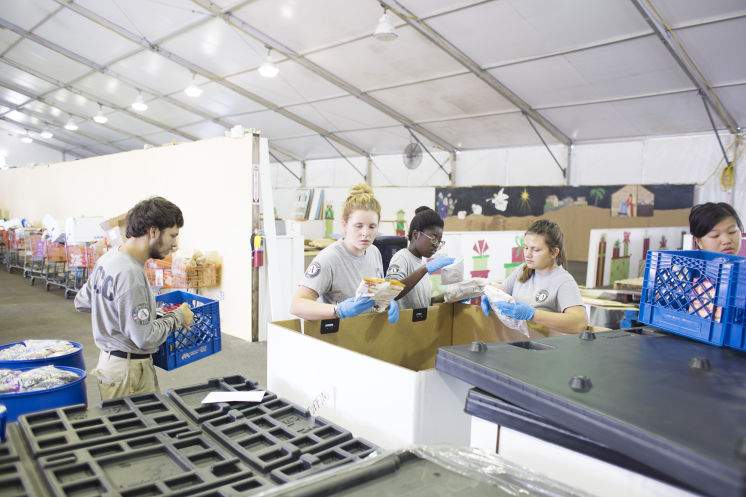 MetMin's Holiday Tent readies for another year of special moments
The diabetic woman and her young son had taken two buses to get to the Metropolitan Ministries Holiday Tent, but she hadn't taken her insulin before the trip, and was too weak to stand by the time she arrived.
Just as Metropolitan Ministries President and CEO Tim Marks was getting ready to call 911 anyway, a basket of fresh oranges caught his eye — and mother and son went home with a warm holiday meal and gifts for the tree.
As many as 10,000 volunteers are expected to greet at least 18,000 families at the tent this season, an increase from last year due to what Marks called "elongated need" after Hurricane Irma costs like evacuation and insurance left many without money for the holidays.
This year's tent especially needs Spanish speakers and leadership-minded people who can show up once a week or a few times during the season to train other volunteers, Marks said.
Contact Libby Baldwin at [email protected] Follow her at @LibBaldwin – – Metropolitan Ministries' Holiday tent is located at 905 North Governor Street, just west of the N Nebraska Ave./E Cass St. intersection.

The diabetic woman and her young son had taken two buses to get to the Metropolitan Ministries Holiday Tent, but she hadn't taken her insulin before the trip, and was too weak to stand by the time sh

@MetroMinistries: Thank you @TB_Times for visiting our tent and sharing our mission! 💙
The diabetic woman and her young son had taken two buses to get to the Metropolitan Ministries Holiday Tent, but she hadn't taken her insulin before the trip, and was too weak to stand by the time she arrived.

Her little boy didn't need to see her in an ambulance, she said.

Just as Metropolitan Ministries President and CEO Tim Marks was getting ready to call 911 anyway, a basket of fresh oranges caught his eye — and mother and son went home with a warm holiday meal and gifts for the tree.

"I don't think we've had oranges before or since in the tent, but in that moment, there they were," Marks said.

The holiday tent, now in its 21st year, seems to abound with examples of little miracles like that.

Metropolitan Ministries has collected and distributed holiday meals and gifts to needy families since 1972 in Hillsborough, Pinellas, Pasco and Polk counties.

The tent found a new home last year when The Heights Tampa broke ground on the site of its previous location on Florida Avenue.

Encore, Tampa Housing Authority's new development designed to provide a culturally diverse community for low and fixed-income residents, donated 36,500 square feet for the new tent.

As many as 10,000 volunteers are expected to greet at least 18,000 families at the tent this season, an increase from last year…
MetMin's Holiday Tent readies for another year of special moments