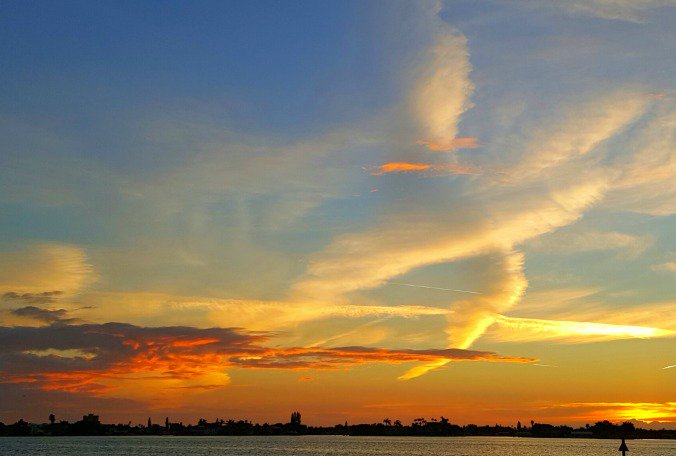 Weather forecast: Increasing wind, rain chances this weekend
WEATHER: LIVE Klystron 9 radar | Get Bay News 9+ app | Sign up for news alerts
WEATHER ON THE GO: Download the Bay News 9 app and get Klystron-9 alerts wherever you are.
GET WEATHER ALERTS: Sign up to receive weather text alerts from Bay News 9
Submitted via Bay News 9+ app: Sunset seen from near Elbow Lane and Park Street in St. Petersburg, Thursday, January 19, 2017.
Upload pictures to Bay News 9 from the app
Make sure to pay close attention to the boating forecast as winds will get very gusty Sunday into Monday.

@BN9: #Tampa area #weather forecast: Increasing wind, rain chances this weekend
@bn9weather
ST. PETERSBURG — 

Here's your Tampa Bay area forecast for the overnight hours heading into Friday and the weekend.

Skies will be partly cloudy overnight into early Friday morning. There will again be some areas of early morning fog, but it will burn off within a couple hours after sunrise.

Lows will be in the upper 50s to low 60s inland, and mid 60s near the beach.

Friday will be a nice day to wrap up the week, but there will be some subtle changes. There will be more clouds, so expect variably cloudy to partly sunny skies. There will be a front to our north that could trigger a few showers in Citrus or Hernando County, but other areas will remain dry.

Temperatures will be warm inland in the low 80s, but coastal areas will top out in the 70s. Friday night will be partly cloudy with lows in the 60s.

There are big changes for this weekend. Winds will increase, there will be a couple of rain chances, and a cold front is on the way for Sunday.

Make sure to pay close attention to the boating forecast as winds will get very gusty Sunday into Monday.
Weather forecast: Increasing wind, rain chances this weekend