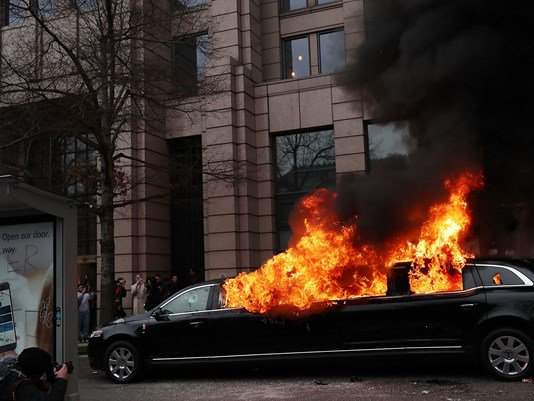 Some Trump protesters to face rioting charges
The arrests took place in a four-block stretch of downtown Washington around the time of President Donald Trump's swearing-in ceremony.
The people who were arrested are appearing in court on Saturday in Washington.
WASHINGTON, DC – JANUARY 20: Police and demonstrators clash in downtown Washington after a limo was set on fire following the inauguration of President Donald Trump on January 20, 2017 in Washington, DC. (Photo by Spencer Platt/Getty Images) (Photo: Spencer Platt, 2017 Getty Images)
Federal prosecutors say most of the approximately 230 protesters arrested on Inauguration Day will be charged with felony rioting.
The U.S. Attorney's Office says the offense is punishable by up to 10 years in prison and a fine of up to $250,000.
Federal prosecutors say most of the approximately 230 protesters arrested on Inauguration Day will be charged with felony rioting.

@10NewsWTSP: Some Trump protesters to face rioting charges:
Federal prosecutors say most of the approximately 230 protesters arrested on Inauguration Day will be charged with felony rioting.

The U.S. Attorney's Office says the offense is punishable by up to 10 years in prison and a fine of up to $250,000. The people who were arrested are appearing in court on Saturday in Washington.

The office says most of those arrested will be released without having to post bail and must return to court in February.

The arrests took place in a four-block stretch of downtown Washington around the time of President Donald Trump's swearing-in ceremony.

%INLINE%