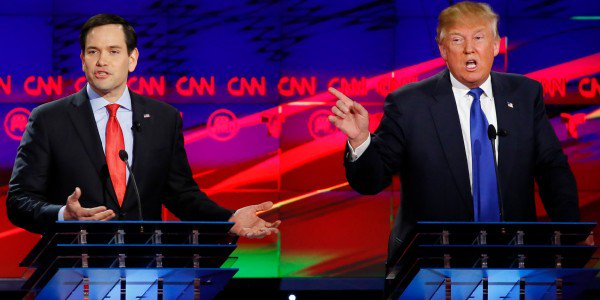 Rubio Supports Trump But Rules Out VP
Home | Rubio Supports Trump But Rules Out VP
During the primaries, Rubio called Trump a "con artist " and a "lunatic" who was "wholly unprepared to be president.
" Rubio said Trump should not be trusted with our nuclear codes.
Trump needs either Rubio or Ohio Gov. John Kasich to be his running mate.
Rubio warned of the "chaos" that would result from a Trump presidency.
Read the full article, click here.
---
@NewsTalkFlorida: "#Rubio says #Trump needs a VP who 'more fully embraces the things he stands for.'"
---
There are signs that Florida Sen. Marco Rubio who was one of Republican nominees Donald Trumps most bitter rivals could be in line to become his running mate. Just Sunday he told CNN host Jake Tapper that he now supports presumptive GOP nominee. Rubio said that he will be going to the GOP convention in Cleveland, and that he would be "honored" to speak there on Trump's behalf. "I want to be helpful. I don't want to be harmful, because I don't want Hillary Clinton to be president," Rubio said.
---
Rubio Supports Trump But Rules Out VP