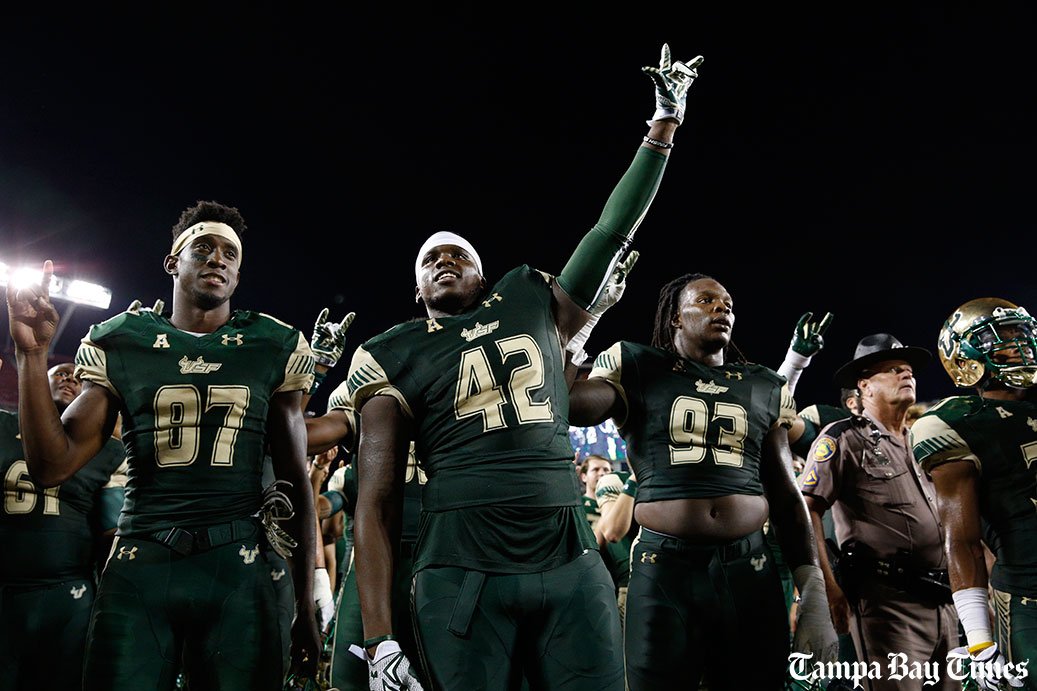 Report: USF makes Big 12 expansion cut, ECU out
It's possible you reached a page that no longer exists on our site.
Use our navigation bar, site map or site search box above to help you locate the content you seek.
There was an error – check the logs for details
If there is a technical issue, our technical team has already been notified.
My Edition
The Bulls reportedly are among six to eight schools still in consideration for two Big 12 expansion spots, according to a report from a former Boston Globe reporter.Mark Blaudschun reported on the subscription-based tmgcollegesports.com that USF made the cut with UCF, Connecticut, Cincinnati, Houston and Memphis. A couple of other American Athletic Conference schools and BYU also remain in the mix, Blaudschun wrote, but he indicated "there is less certainty either Florida school is regarded as a prime contender."

@TBTimes_Sports: Report: USF makes Big 12 expansion cut, East Carolina out. #USF #ECU #Big12 @USFAthletics
The Bulls reportedly are among six to eight schools still in consideration for two Big 12 expansion spots, according to a report from a former Boston Globe reporter.

Mark Blaudschun reported on the subscription-based tmgcollegesports.com that USF made the cut with UCF, Connecticut, Cincinnati, Houston and Memphis. A couple of other American Athletic Conference schools and BYU also remain in the mix, Blaudschun wrote, but he indicated "there is less certainty either Florida school is regarded as a prime contender."

USF has consistently declined to comment on its pursuit of Big 12 membership, but the school sent a package of promotional material to the Power Five conference earlier this month.

The report cited no sources, but East Carolina indicated Wednesday it has been informed by Big 12 commissioner Bob Bowlsby it's no longer an expansion candidate.

"While I am disappointed by the decision, I remain undaunted in my commitment to ECU athletics and the excellence displayed by our wonderful student-athletes, coaches and staff," East Carolina president Dr. Cecil Stanton said in the statement.

The report says each finalist is expected to make presentations to the Big 12 in the next few weeks, "presumably in Dallas." After reviewing the candidates, Big 12 Commissioner Bob Bowlsby and his staff will trim the list to two candidates.

Bowlsby then will make his recommendations before the Big 12 board of directors at a scheduled October meeting. Blaudschun also indicated "some chatter of a growing sentiment" that Big 12 presidents could table expansion talk for at least a year.