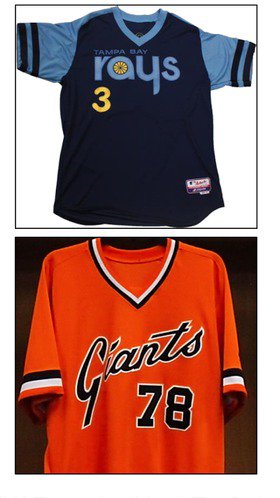 Rays, Giants to go '70s retro for June 18 Turn Back the Clock game
Come to follow Tampa Bay Rays news at Tropicana Field and beyond.
The Rays have won three straight games and hold an overall record of 3-1 when wearing these uniforms.
Rays explode on Blue Jays for second straight game 5/17/16
Read the full article, click here.
---
@PhilHecken: "YES! Rays, Giants to go '70s retro for June 18 Turn Back the Clock game"
---
The Rays and Giants will wear 1970s style retro uniforms for a June 18 Turn Back the Clock Game at the Trop. The Rays will offer ticket specials – $19.76 for four seats – along with a poster giveaway, special in-game activities and a post-game concert by The Fray, a rock band that was formed in 2002 and had its first hit in 2005.
---
Rays, Giants to go '70s retro for June 18 Turn Back the Clock game