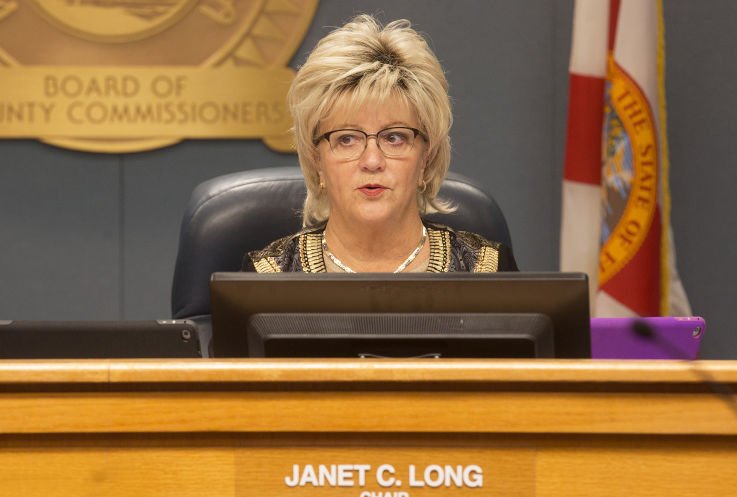 Pinellas County Commission: Reform construction licensing board and give us control
The agency is overseen by a board of private contractors.
We need better legal advice from the county attorney, who represents the board."
Meanwhile six public officials who sit on the licensing board agreed that county government should take control.
Pinellas County Attorney Jim Bennett said he'll dedicate two of his attorneys to conducting a top-to-bottom review of the licensing board after a Tampa Bay Times investigation detailed the agency's fast and loose approach to disciplining contractors.
The Florida Legislature created the board in 1973, but its leaders do not answer to any government officials.
CLEARWATER –– Calls to reform the Pinellas County Construction Licensing Board grew louder on Tuesday. The Pinellas County Commission said the board that oversees the county's contractors should be brought under its control. Some of the public officials who serve on the agency's governing board agreed.

@TB_Times: Pinellas County Commission: Reform construction licensing board and give us control
CLEARWATER –– Calls to reform the Pinellas County Construction Licensing Board grew louder on Tuesday. The Pinellas County Commission said the board that oversees the county's contractors should be brought under its control. Some of the public officials who serve on the agency's governing board agreed.

In the meantime, Pinellas County Attorney Jim Bennett said he'll dedicate two of his attorneys to conducting a top-to-bottom review of the licensing board after a Tampa Bay Times investigation detailed the agency's fast and loose approach to disciplining contractors.

SPECIAL REPORT: Pinellas County Construction Licensing Board plays fast and loose with disciplinary process

The agency is Florida's only independent construction licensing board, yet the Times found that homeowners and contractors alike felt cheated, ignored and even stonewalled by the agency's disciplinary panels, which do not appear to have operated in compliance with state law.

The Florida Legislature created the board in 1973, but its leaders do not answer to any government officials. Instead, the agency is overseen by a board of private contractors.

On Monday, two state senators from St. Petersburg, Republican Jeff Brandes and Democrat Darryl Rouson, said they're working on legislation to shift control of the agency to the county.

County commissioners on Tuesday said they agree with that approach, that the best way to regulate contractors and protect taxpayers is to give them the power to oversee the agency instead of relying on private contractors.

In a letter to lawmakers, County Commission Chair Janet Long implored them to find an "expeditious solution" for the issues at the licensing board. And she read from a stern letter she sent to the licensing board.

"We strongly encourage the PCCLB to address the issues reported in the Tampa Bay Times to increase accountability and oversight, eliminate conflicts of interest" and follow public records laws, she said. She also asked that the county administrator figure out the best way for the county to regulate its building contractors.

Her fellow commissioners said they're not looking for minor fixes from the legislature. They want a complete overhaul.

"We should have a discussion about what (a new agency) looks like," commissioner Karen Seel said.

Bennet's office advises the licensing board but he did not offer any details about the legal review, citing attorney-client privilege. The review will start Wednesday.

Meanwhile six public officials who sit on the licensing board agreed that county government should take control. They are among the seven building and fire officials who serve on the board along with 14 private contractors.

Those public board members said they didn't know the board's vice chair was working for consumers and then sitting on a small disciplinary panel that determined whether contractors committed infractions.

"It troubled me that anyone would take $1,000 from a consumer and then judge the complaint," said Pinellas County Director of Building Services Larry Goldman, who serves on the board. "I would be fine with it going under county government."

Seminole Fire Rescue Fire Marshal Michael Rodde agreed.

"What they did was wrong," Rodde said about the disciplinary panel.

The fire and building officials do not serve on the disciplinary panel, which is called a probable cause committee. Clearwater Fire Marshal Steve Strong said that after reading the Times story he was "shocked" at how the smaller panel operates away from the main board.

"I had no idea," Strong said. "It caught me off guard."

St. Petersburg building official Rick Dunn, the interim board chair, said that after 44 years it's time to change the way the agency operates.

"It's clear parliamentary procedures aren't being followed," Dunn said about the disciplinary panel. "We need better legal advice from the county attorney, who represents the board."

The county commission told staff to study the best practices followed by licensing boards from across Florida. The Pinellas County legislative delegation is already working on its own plan, which is set to be presented at the Jan. 31 meeting.

The leader of the delegation, state Sen. Jack Latvala, R-Clearwater, said Tuesday "the time has come for a real long, hard look at it" changing the licensing board. But he said abolishing it may not be the answer.

"Should it have some changes made to it? Absolutely," he said, noting one option could be adding a county commissioner to the 21-member board.

He also called on the board's executive director Rodney Fischer to correct the deficiencies revealed in the Times report, such as keeping written minutes of disciplinary meetings and making sure members follow state ethics laws.

"That's just common sense," Latvala said. "I talked to the executive director the other night, who I've known for 30 years, and I just said: 'Geez, come on, man. You know better than this.'"

Times staff writer Michael Auslen contributed to this report. Contact Mark Puente at mpuente@tampabay.com or (727) 892-2996. Follow @MarkPuente
Pinellas County Commission: Reform construction licensing board and give us control