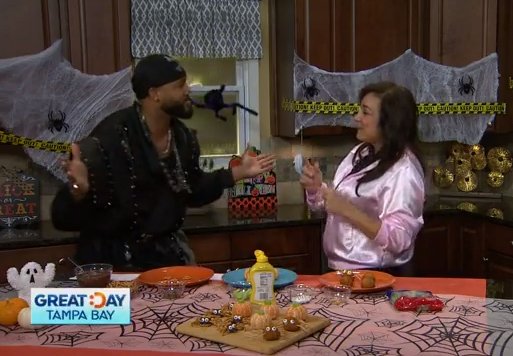 The Family Foodie Prepares You for Halloween!
Founder of Sunday Supper Movement Isabel Laessig has joined us many of times for food preparation and great on the go meal ideas.
She wants to make sure you are ready for your Halloween gathering so she joined us for some Spooktacular food ideas.
Founder of Sunday Supper Movement Isabel Laessig has joined us many of times for food preparation and great on the go meal ideas. She wants to make sure you are ready for your Halloween gathering so she joined us for some Spooktacular food ideas. For more info, go to sundaysuppermovement.com/chocolate-pretzel-spiders

@FoodWineCon: Our pal @familyfoodie was on @GreatDayTB for Halloween! Check it out! #FWCon
Founder of Sunday Supper Movement Isabel Laessig has joined us many of times for food preparation and great on the go meal ideas. She wants to make sure you are ready for your Halloween gathering so she joined us for some Spooktacular food ideas. For more info, go to sundaysuppermovement.com/chocolate-pretzel-spiders