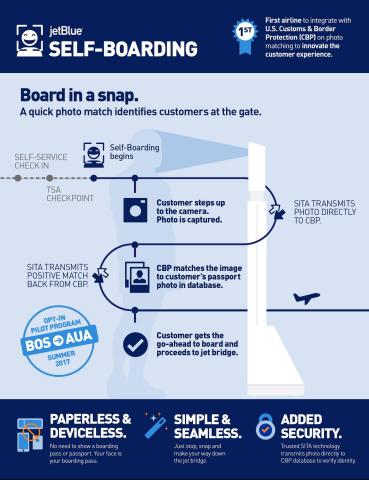 JetBlue testing facial-recognition boarding system
JetBlue on Tuesday announced it will begin testing a paperless and deviceless self-boarding process by using facial recognition on flights from Boston's Logan International Airport to Aruba's Queen Beatrix International Airport.
The airline said it will collaborate with U.S. Customs and Border Patrol and SITA to test the process.
JetBlue will be the first airline to integrate with Border Patrol to use biometrics and facial-recognition technology to verify customers at the gate during boarding.
Customers who opt in during the boarding process will step up to a camera.
"We hope to learn how we can further reduce friction points in the airport experience, with the boarding process being one of the hardest to solve," said Joanna Geraghty, executive vice president customer experience for JetBlue, in a news release.
No more boarding passes? JetBlue will soon begin testing a facial-recognition boarding system.

@BN9: No more boarding passes? JetBlue to test facial-recognition boarding system
Boarding passes and QR codes could soon be a thing of the past.

JetBlue on Tuesday announced it will begin testing a paperless and deviceless self-boarding process by using facial recognition on flights from Boston's Logan International Airport to Aruba's Queen Beatrix International Airport. The program begins in June.

The airline said it will collaborate with U.S. Customs and Border Patrol and SITA to test the process. JetBlue will be the first airline to integrate with Border Patrol to use biometrics and facial-recognition technology to verify customers at the gate during boarding.

Customers can participate without any prior enrollment or registration.

Customers who opt in during the boarding process will step up to a camera. The camera station will connect to Border Patrol to instantly match the image to passport, visa or immigration photos in the Border Patrol database and verify flight details.

"We hope to learn how we can further reduce friction points in the airport experience, with the boarding process being one of the hardest to solve," said Joanna Geraghty, executive vice president customer experience for JetBlue, in a news release. "Self-boarding eliminates boarding pass scanning and manual passport checks. Just look into the camera and you're on your way."