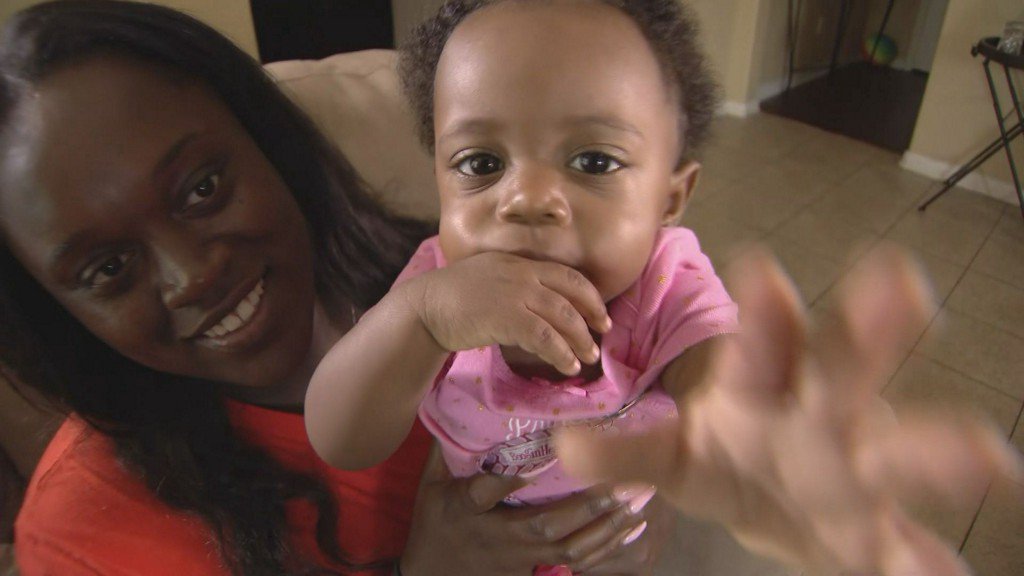 Mom, baby reunited after flood rescue
HOUSTON – A Houston mom and the officer who rescued her baby are sharing their story and publicly thanking the tens of thousands of people who played a role in their happy ending.
Da'Jauh Hennix was escaping her mother's home in east Houston – in floodwaters up to her neck – while holding her eight-month-old baby Paige above her head.
Cpl. Reed Clark of the Harris County Constable's Office Precinct 2 piloted a personal watercraft onto the same street, and spotted Hennix and her daughter.
Desperate, Hennix and her family turned in their search to Facebook, about the time Cpl. Clark was posting a picture of his own with the girl separated in the chaos from her mom.
Clark and Hennix are planning a reunion after things settle down.
A Houston mom and the officer who rescued her baby are sharing their story and publicly thanking the tens of thousands of people who played a role in their happy ending.

@10NewsWTSP: Mom, baby reunited after flood rescue
HOUSTON – A Houston mom and the officer who rescued her baby are sharing their story and publicly thanking the tens of thousands of people who played a role in their happy ending.

Da'Jauh Hennix was escaping her mother's home in east Houston – in floodwaters up to her neck – while holding her eight-month-old baby Paige above her head.

"I was crying I was scared," Hennix said Wednesday, two days removed from her ordeal.

Cpl. Reed Clark of the Harris County Constable's Office Precinct 2 piloted a personal watercraft onto the same street, and spotted Hennix and her daughter.

"I heard people screaming 'Baby!'" Clark said. "She was holding the baby up and then the water would come up and you could see her neck and her head come under the water and she was trying to get to higher ground."

Motoring closer, Clark scooped up Paige from the seat of the watercraft.  "He was like, she's going to be in a black truck at the front.  I'm like that's fine," Hennix recounted.

Just one issue that would soon become apparent to Hennix.  "We're still walking, we get to the front of the road, there's so many black trucks."

Hennix searched for daughter before winding up in a shelter, still separated from Paige. 

Hours passed.

"I was panicking, I was crying.  My mom, she was scared and crying as well," Hennxi said.

Desperate, Hennix and her family turned in their search to Facebook, about the time Cpl. Clark was posting a picture of his own with the girl separated in the chaos from her mom.

Clark's post was shared 32,000 times and viewed more than 2.6 million times.

Soon after, mother and daughter were reunited. "She had a new blanket, she was dry, she was fed. When we got her she was sleeping," Hennix said.

Clark and Hennix are planning a reunion after things settle down.  The officer offered to  buy the mom dinner.

"She is the perfect example of a great mother," Clark said.  "She didn't say help me one bit, she handed her baby over and said, 'Help my baby, get my baby out of here.'"