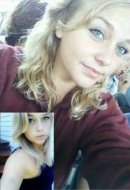 Missing 17-year old believed to be in Florida
A missing persons advocacy foundation has reached out about a missing teenager that is believed to be in Florida.
Iahloni Clingman is a 17-year old female from Mendocino County, Cal. who has been missing since Aug. 16, 2016.
Clingman has contacts in Florida and has purchased bus tickets to an unknown location.
If you have information on her whereabouts, please contact the Mendocino County Sheriff's Office: (707)459-7833.
To find out more about Facebook commenting please read the Conversation Guidelines and FAQs
Read the full article, click here.
---
@10NewsWTSP: "#MISSING : Calif. teen Iahloni Clingman believed to be in Florida
Details:"
---
Iahloni Clingman is a 17-year old female from California that has been missing from Willits since Aug. 16, 2016. Clingman has contacts in Florida and has purchased bus tickets to an unknown location.
---
Missing 17-year old believed to be in Florida