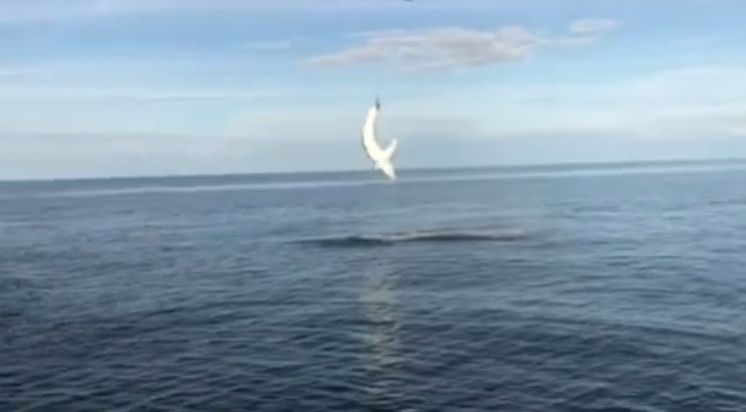 Mako hooked near Indian Rocks Beach does dramatic back flips (w/video)
And the identification is right – it's a mako shark doing what mako sharks do best."
When a group of five friends went out in the waters on Indian Rocks Beach on Sunday, they found a mako shark in shallow waters.
INDIAN ROCKS BEACH – After nearly seven hours on the water hooking grouper and amberjack, a group of five friends snagged a mako shark – then watched it fly.
Mako hooked near Indian Rocks Beach does dramatic back flips (w/video) 01/18/17 [Last modified: Wednesday, January 18, 2017 4:28pm] Photo reprints | Article reprints
"It's really rare to see a mako in that shallow of water," Danowksi said. "
INDIAN ROCKS BEACH — After nearly seven hours on the water hooking grouper and amberjack, a group of five friends snagged a mako shark — then watched it fly.

@TB_Times: Mako hooked near Indian Rocks Beach does dramatic back flips (w/video)
INDIAN ROCKS BEACH — After nearly seven hours on the water hooking grouper and amberjack, a group of five friends snagged a mako shark — then watched it fly.

Taylor Danowski, 21, the captain of the boat that day, guessed he and his crew were only seven miles off the Indian Rocks Beach shore Sunday when they spotted the shark's fin then watched it move under their boat.

"It's really rare to see a mako in that shallow of water," Danowksi said. "I've never even heard of that … to hook him, that's even more rare."

Danowski and his pals have video to prove it, showing the massive shark doing three back flips up to 20 feet in the air.

Mako sharks are an off-shore fish, usually found in deep waters on the Atlantic side of Florida. While it's rare to have one come so close to shore, it's not unheard of, said George Burgess, director of the Florida Program for Shark Research at the University of Florida.

"It's a cool video," Burgess said. "And the identification is right — it's a mako shark doing what mako sharks do best."

With a hook in its mouth, the species is known to show off its athleticism. When the group saw the shark near the boat, the friends decided to throw out half an amberjack on the end of a line they'd been using to catch grouper.

The shark grabbed on. As Danowski's friend Brandon Noah steadied the line, Kellen Kelog steadied his camera phone.

The video, first posted to Danowski's Facebook page, has blown up since Monday. He knew people would be amazed by the shark's flips, but he didn't expect to be fielding interview requests from national media.

Danowski, of Madeira Beach, has gotten some criticism for hurting the shark but said the fish was released unscathed. He said he never even considered trying to bring it on board because of its size.

The best practice for catch and release of a shark is to keep it in the water at all times, like the group did with the mako, said Brent Winning, a scientist with the Florida Fish and Wildlife Conservation Commission.

"If you bring them on the deck, they thrash around and damage their internal organs," Winning said. "Best to do your fishing, get 'em in, get your picture and let them go."

The FWC's website lists the largest mako ever caught in the sate as one near Palm Beach at 911 pounds. Danowski guessed the one he saw could have broken 1,000 pounds.

Danowksi renovates homes as his day job, but his weekends are usually devoted to fishing. He's a regular at local competitions.

He worried about spear fishers running into the shark in the shallow waters, but the experts say that's unlikely. It probably moved quickly back to deeper waters.

"It might have made a left turn when it should have made a right turn in the Loop Current and wound up in shallower water," Burgess said. "Now that's got a good meal in its belly and a sore mouth from the hook, it's probably scooted the other way and is headed to Key West."

Contact Sara DiNatale at sdinatale@tampabay.com. Follow @sara_dinatale.
Mako hooked near Indian Rocks Beach does dramatic back flips (w/video)