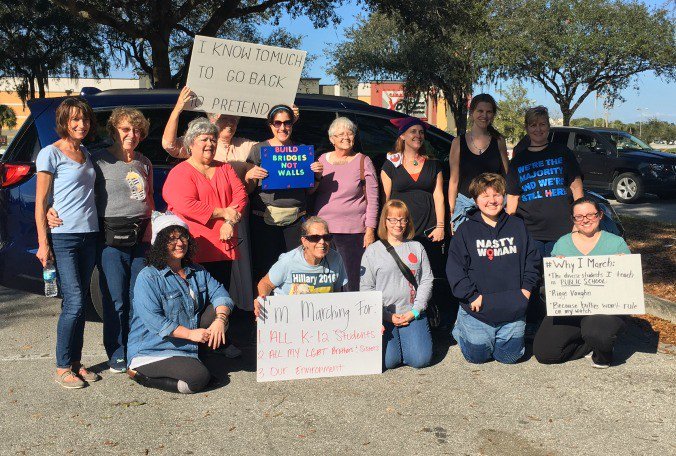 Lakeland group in Washington for 'Women's March'
WEATHER: LIVE Klystron 9 radar | Get Bay News 9+ app | Sign up for news alerts
55 women from Lakeland will join 100,000 more people participating in Saturday's 'Women's March on Washington."
Get instant Severe Weather & Breaking News alerts delivered directly to your cell phone or email with Bay News 9 NOW .
Upload pictures to Bay News 9 from the app
Every week, Bay News 9 salutes an Everyday Hero making a positive difference in the Bay area community.
55 women from Lakeland will join 100,000 more people participating in Saturday's 'Women's March on Washington.

@BN9: Lakeland group takes on Washington for the 'Women's March' today.
More than a 100,000 people from across the nation are expected to march in Washington, D.C. Saturday for the "Women's March on Washington."

Many of those participating in the march traveled to the nation's capitol by bus, including 55 women who left in a Coach bus from Lakeland Friday.

The women said they were concerned about women's rights — in particular reproductive rights — along with education, affordable health care, civil rights, and LGBT rights.

"But my biggest concern is that in my lifetime, so many victories have been won for women moving us forward and the campaign made me think that we could lose some of the gains that we've made," said Beverly Geyer, an 80 year old from Lakeland who said she wanted to see a female president before she died.

"I have a daughter and a granddaughter, and I don't want them to start from where I started," said Geyer.

"For me, it really just felt like the perfect way to express my disappointment, but also to express solidarity with other people who were worried about the direction the country was going," said Julie Hornick, a librarian from Lakeland.

"I hope that legislators take notice," Hornick continued. "I want the world to know too that there are people in this country who are not willing  to sit back quietly and let things happen.  That sometimes you do have to get up and get out and let people know that you are not happy."

Karen Welzel, President of the Democratic Women's Club of East Polk Ridge, called the march a rally to draw all women together.

"I'm determined to make sure we have health care for everyone," said Welzel. "And a good education for our children."

For more information on the march: https://www.womensmarch.com/event-details/.