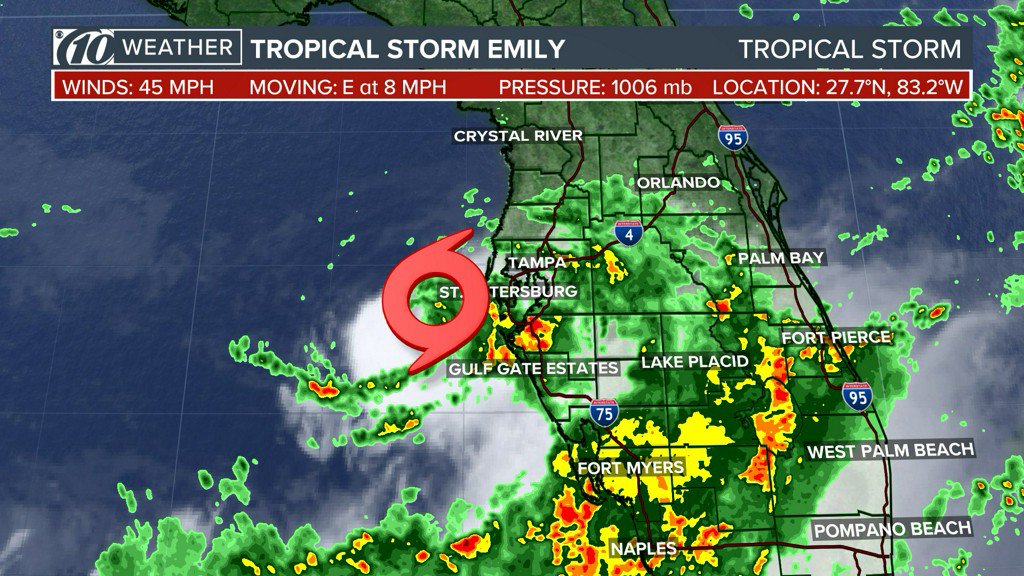 How to prepare for Tropical Storm Emily
As Tropical Storm Emily moves closer to Florida, several areas in Tampa Bay are on guard for potential danger, including flooding.
While our meteorologists don't predict Tropical Storm Emily to become a hurricane, it's always a good idea to be prepared no matter what the situation is.
Put together a go-bag

A disaster supply kit is always a good idea to have in case of any emergency.

Make a family emergency plan

Your family may not be together when disaster strikes, so it's good to know when it could affect your area.

Right now, (7/31/17 8:20 a.m.) The center of Tropical Storm Emily is about 30 miles west/southwest of St. Pete Beach.
While our meteorologists don't predict Tropical Storm Emily to become a hurricane, it's always a good idea to be prepared no matter what the situation is.

@10NewsWTSP: How to prepare for Tropical Storm Emily
As Tropical Storm Emily moves closer to Florida, several areas in Tampa Bay are on guard for potential danger, including flooding.

While our meteorologists don't predict Tropical Storm Emily to become a hurricane, it's always a good idea to be prepared no matter what the situation is. 

Know where to go

In case of an evacuation, know the local evacuation routes to take with you and have a plan for where you are going to stay. Note: Right now, there are no evacuation orders. 

Put together a go-bag

A disaster supply kit is always a good idea to have in case of any emergency. Things you should include in your bag are batteries, a flashlight, cash, first aid supplies and any medications you think you will need. Make sure to keep copies of your personal information if you are ordered to evacuate.

Make a family emergency plan

Your family may not be together when disaster strikes, so it's good to know when it could affect your area. Make a plan on how to reconnect if you're separated. FEMA has a PDF files to download and print off to help your family come up with a plan.

Right now, (7/31/17 8:20 a.m.) The center of Tropical Storm Emily is about 30 miles west/southwest of St. Pete Beach. It will move onshore throughout the day with some gusty winds. Wind guests are estimated around 45 mph. The heaviest rain is moving towards Manatee and Sarasota counites.

Download the 10News App 

Our 10News team will send alerts straight to your phone for emergency notifications, watches, and warnings. You can also watch the radar to find out when the storm could be in your area.

To download go to these links: