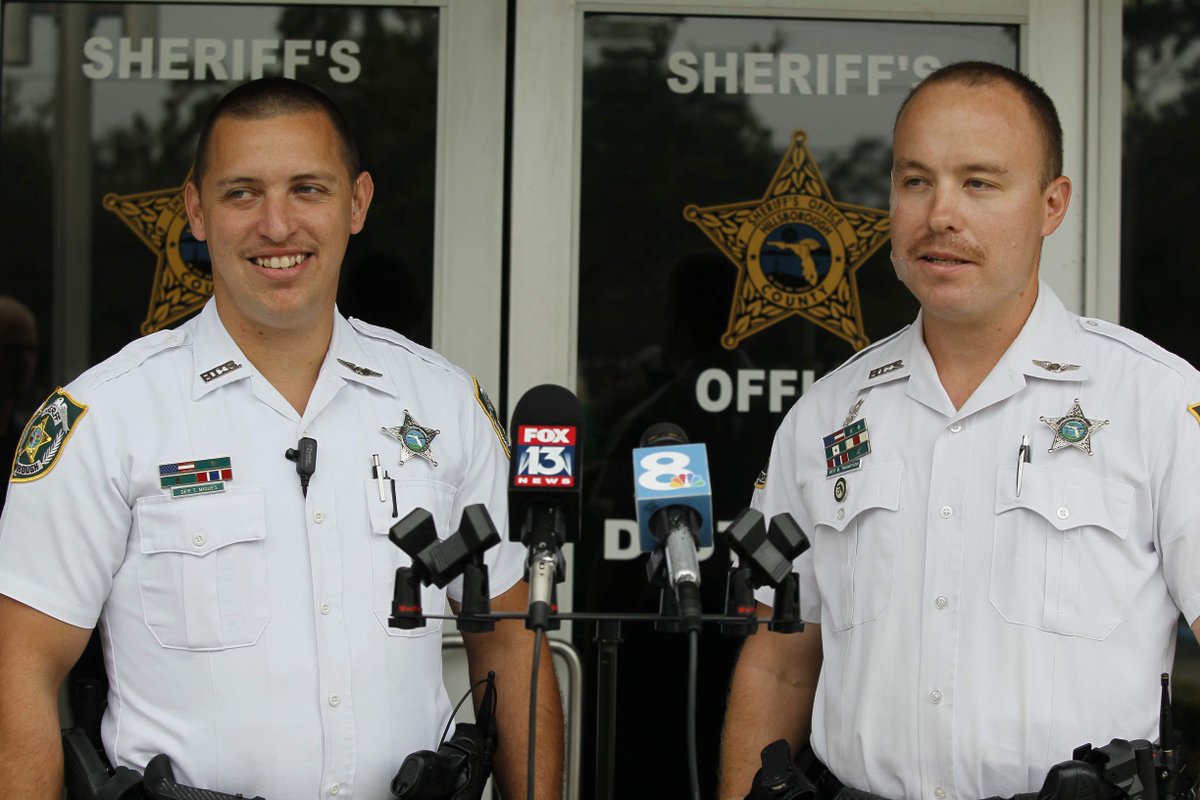 Hillsborough deputies describe rescuing woman from sinking SUV
Thompson stripped off his utility belt, shirt and boots and swam to the SUV that was deep enough in the pond that he had to tread water.
The driver, Thompson said, was in hysterics, and understandably so, gripping the steering wheel and yelling as water rose to her ankles.
Leaning half his body into the car, over broken glass, Thompson wrapped his arms around driver Evans' waist and pulled, but she was stuck.
Then, the SUV, the driver and Thompson disappeared under water and everything fell silent.
And when the car sank to the bottom of the pond, the driver "popped out [of her seat] like a cork," Thompson said.

The scariest moment was when the screaming stopped.Two Hillsborough County sheriff's deputies rescued a woman from a sinking vehicle Saturday evening, swimming to it, breaking the window and pulling

@TB_Times: Hillsborough deputies describe rescuing woman from sinking SUV @TB_Times
The scariest moment was when the screaming stopped.

Two Hillsborough County sheriff's deputies rescued a woman from a sinking vehicle Saturday evening, swimming to it, breaking the window and pulling her out just as the red SUV plunged to the bottom of the pond.

The driver, Leona Evans, 82 and of Webster, was taken to Lakeland Regional Hospital and remained in serious condition as of Sunday.

Still, said the deputies, it could have been much worse.

"If we hadn't gotten there when we did, I think 30 seconds would have been too much longer," Deputy Benjamin Thompson, 35, said. "It was just excellent timing."

According to the Florida Highway Patrol, Evans was driving a 2015 Hyundai Santa Fe westbound on Paul Buchman Highway near Plant City when she travelled across all lanes of intersecting Alexander Street and collided with a utility pole.

The SUV went airborne, crossed an embankment, crashed through a chain link fence and entered a pond.

The crash was not alcohol-related but what caused her to veer is still under investigation.

Deputies Thompson and Trent Migues, 29, arrived on the scene at approximately 5 p.m. — about 10 minutes after they received the emergency call.

Bystanders had already tied a rope to the vehicle to pull it out. Another was attempting to open the door but none "had the tools to do anything," Thompson said.

Thompson stripped…
Hillsborough deputies describe rescuing woman from sinking SUV