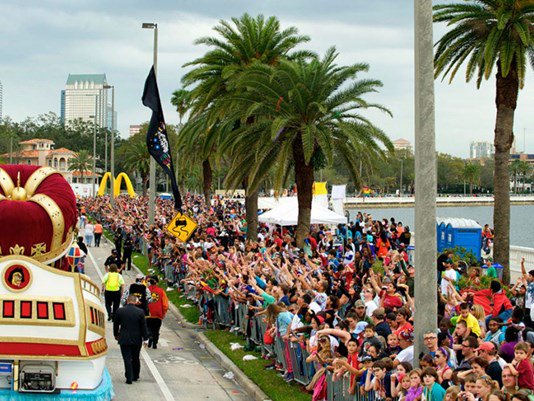 Children's Gasparilla Parade traffic and parking
The shuttle will deliver to Bayshore Boulevard near the beginning of the parade route.
The parade begins on Bay to Bay Boulevard and Bayshore Boulevard, proceeds north along Bayshore, and ends at Edison Avenue and Bayshore Blvd.
Close One Eastbound Lane and one Westbound Lane on Bay to Bay Blvd from MacDill Ave to Ysabella Ave (to accommodate Pedestrian Walkway)
According to the City of Tampa, only motorists with an ID verifying residency will be allowed to enter the Bayshore Gardens and Hyde Park Preservation neighborhood after the streets have been closed.
The cost is $5 per adult and children accompanied by an adult ride for free.
Tampa, FL — Ahoy, mateys! It's time to prepare the ship because the Children's Gasparilla Parade steps off at 3:30 p.m. on Saturday, January 21. The parade begins on Bay to Bay Boulevard and Bayshore Boulevard, proceeds north along Bayshore, and ends at Edison Avenue and Bayshore Blvd. The evening culminates with a spectacular fireworks show at 7 p.m. Be prepared for traffic to be extra heavy. Except delays and detours in the area. According to the City of Tampa, only motorists with an ID verifying residency will be allowed to enter the Bayshore Gardens and Hyde Park Preservation neighborhood after the streets have been closed. The city also warns that any vehicles parked on the streets in the affected neighborhoods will be cited and towed. Here is the 2017 Gasparilla Children's parade Road Closure Schedule: Monday January 16, 2017 – Thursday, February 2, 2017 Close Bayshore Blvd. crossovers at DeSoto Ave., Nance Ave., Albany Ave. and Gunby Ave. Saturday, January 21, 2017 @ 2:00 AM Close Bayshore Blvd. Northbound from Bay-to-Bay Blvd. to Rome Ave. Saturday, January 21, 2017 @ 6:30 AM Close Bayshore Blvd from Gandy Blvd to Platt St/Channelside Dr Close Davis Island Bridge Off Ramp onto Northbound Bayshore Blvd Saturday, January 21, 2017 @ 9:00 AM Close One Eastbound Lane and one Westbound Lane on Bay to Bay Blvd from MacDill Ave to Ysabella Ave (to accommodate Pedestrian Walkway) Saturday, January 21, 2017 @ 4:30 PM Close Eastbound Bay-to-Bay Blvd at MacDill Ave The shuttle service from the Fort Brook Garage, located on the corner of Franklin and Whiting Streets, will operate one continuous shuttle route on January 21, 2017 from 10 a.m. – 8 p.m. The cost is $5 per adult and children accompanied by an adult ride for free. The shuttle will deliver to Bayshore Boulevard near the beginning of the parade route. For a complete list of the Children's Gasparilla Parade events and activities, visit: www.gasparillaextravaganza.com.

@10NewsWTSP: HEY PIRATES: Children's Gasparilla Parade traffic and parking
Tampa, FL — Ahoy, mateys! It's time to prepare the ship because the Children's Gasparilla Parade steps off at 3:30 p.m. on Saturday, January 21. The parade begins on Bay to Bay Boulevard and Bayshore Boulevard, proceeds north along Bayshore, and ends at Edison Avenue and Bayshore Blvd. The evening culminates with a spectacular fireworks show at 7 p.m. 

Be prepared for traffic to be extra heavy. Except delays and detours in the area. According to the City of Tampa, only motorists with an ID verifying residency will be allowed to enter the Bayshore Gardens and Hyde Park Preservation neighborhood after the streets have been closed. The city also warns that any vehicles parked on the streets in the affected neighborhoods will be cited and towed.

The shuttle service from the Fort Brook Garage, located on the corner of Franklin and Whiting Streets, will operate one continuous shuttle route on January 21, 2017 from 10 a.m. – 8 p.m. The cost is $5 per adult and children accompanied by an adult ride for free.  The shuttle will deliver to Bayshore Boulevard near the beginning of the parade route.

For a complete list of the Children's Gasparilla Parade events and activities, visit: