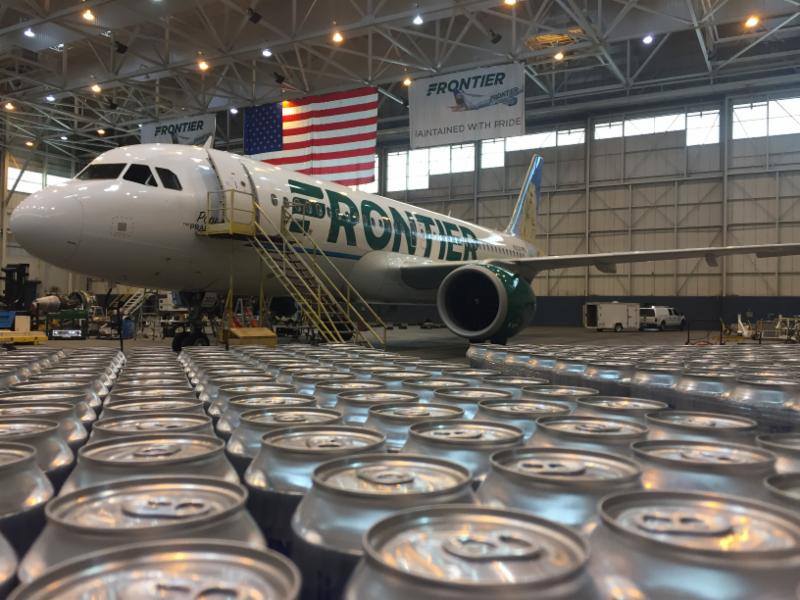 Frontier Airlines flies Oskar Blues water to Puerto Rico
Frontier Airlines has partnered with Oskar Blues Brewery to fly cans of clean drinking water to Puerto Rico to aid those affected by Hurricane Maria.
Last month, Oskar Blues Brewery temporarily halted beer production to fill cans with drinking water for residents in southeast Texas.
Frontier says Wednesday's flight carrying 91,000 cans of water flown was the first of many flights to Puerto Rico.
Oskar Blues says the CAN'd Aid Foundation will continue to help residents recover from Hurricanes Harvey, Irma and Maria.
According to the Can'd Aid Foundation, 220,200 cans have already been sent to Texas and 201,700 to Florida.
Help for residents in Puerto Rico is coming from Colorado.

@10NewsWTSP: Frontier Airlines flies Oskar Blues water to Puerto Rico
KUSA – Help for residents in Puerto Rico is coming from Colorado.

Frontier Airlines has partnered with Oskar Blues Brewery to fly cans of clean drinking water to Puerto Rico to aid those affected by Hurricane Maria.

Last month, Oskar Blues Brewery temporarily halted beer production to fill cans with drinking water for residents in southeast Texas.

Frontier says Wednesday's flight carrying 91,000 cans of water flown was the first of many flights to Puerto Rico.

Oskar Blues says the CAN'd Aid Foundation will continue to help residents recover from Hurricanes Harvey, Irma and Maria. According to the Can'd Aid Foundation, 220,200 cans have already been sent to Texas and 201,700 to Florida.

You can help donate to the Can'd Aid Foundation