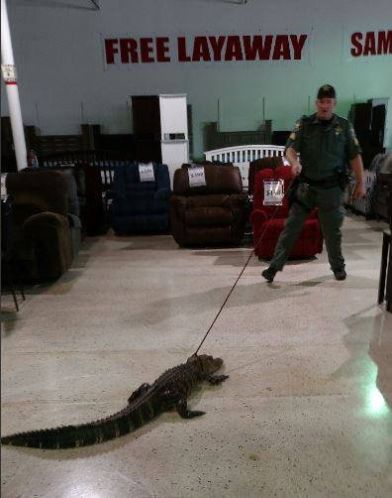 Florida gator struts through Pasco County furniture store
HOLIDAY — A Pasco County alligator had to take a detour past the recliners before making it back to his home in a lake behind a furniture store this week.
This is Florida, after all, where sometimes it makes more sense to drag a gator on a leash through a store rather than around it.
Pasco deputies got a call on Wednesday that an alligator was hanging out in the American Freight Furniture and Mattress parking lot, under a silver Honda.
Deputies wanted to get the alligator into the nearby lake, but employees intervened to tell the Sheriff's Office it was probably better for them to walk the gator through their store.
The group of deputies and store workers followed the gator on its way outside, yelling "special delivery."
HOLIDAY — A Pasco County alligator had to take a detour past the recliners before making it back to his home in a lake behind a furniture store this week.

@TB_Times: Florida gator struts through Pasco County furniture store
HOLIDAY — A Pasco County alligator had to take a detour past the recliners before making it back to his home in a lake behind a furniture store this week.

This is Florida, after all, where sometimes it makes more sense to drag a gator on a leash through a store rather than around it.

Pasco deputies got a call on Wednesday that an alligator was hanging out in the American Freight Furniture and Mattress parking lot, under a silver Honda.

(That Honda also had Florida Gator sticker on it, repping the University of Florida's familiar reptile mascot.)

Deputies wanted to get the alligator into the nearby lake, but employees intervened to tell the Sheriff's Office it was probably better for them to walk the gator through their store. The path outside the store would have been three times as long and on rough terrain, according to the Sheriff's Office.

With management's permission, deputies said, they walked the gator past mattresses, bed frames and couches — through the clearance section and out the back doors.

Employee Peter Soto posted some of the alligator's adventures in a video to Facebook.

"Yeah, this is my job and I love it," he said on camera. "That's real gator skin for ya."

The group of deputies and store workers followed the gator on its way outside, yelling "special delivery."

Deputies were able to return the gator to the lake.

Contact Sara DiNatale at sdinatale@tampabay.com. Follow @sara_dinatale.