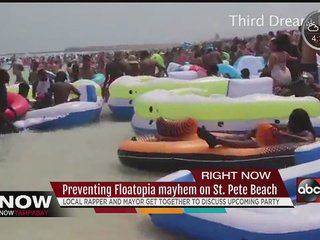 Rapper Forgiato Blow's "float-party" concerns St. Pete Beach officials and residents
Rapper Forgiato Blow invited thousands of his Facebook friends to the free event on the public beach.
"It was never really an event that was setup with thought maybe 50-70 people," said Blow.
Deputies will be patrolling the beach area near the event.
"I want everyone to come out and do the right thing if you see trash pick it up," said Blow.
The Mayor of St. Pete Beach is encouraging blow to get a permit for the event.
Read the full article, click here.
---
@abcactionnews: ""Float party" on beach concerns St. Pete Beach residents"
---
St. Pete Beach officials and residents are concerned about a "float-party" scheduled for Sunday near the Don Cesar. Rapper Forgiato Blow invited thousands of his Facebook friends to the free event on…
---
Rapper Forgiato Blow's "float-party" concerns St. Pete Beach officials and residents