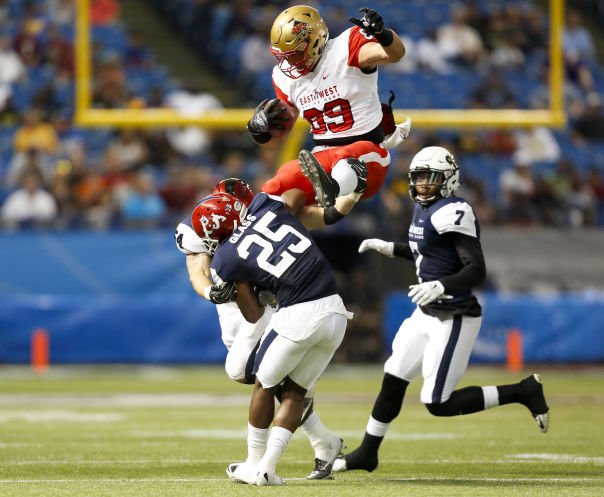 East-West Shrine Game: West beats East 10-3 in defensive battle
East-West Shrine Game: West beats East 10-3 in defensive battle 01/21/17 [Last modified: Saturday, January 21, 2017 8:11pm] Photo reprints | Article reprints
Michigan's De'Veon Smith, one of the game's most heralded players, managed just 23 yards on 11 carries.
ST. PETERSBURG – Eli McGuire finally got into the end zone and the West's defense did the rest, forcing a fumble inside the 5-yard line in the fourth quarter and holding on for a 10-3 win at the East-West Shrine Game on Saturday at Tropicana Field.
"It was fun getting after them and just a good time all around.
Sign up for BUCS POSTGAME REPORT
ST. PETERSBURG — Eli McGuire finally got into the end zone and the West's defense did the rest, forcing a fumble inside the 5-yard line in the fourth quarter and holding on for a 10-3 win at the East-West Shrine Game on Saturday at Tropicana Field.

@TB_Times: East-West Shrine Game: West beats East 10-3 in defensive battle
ST. PETERSBURG — Eli McGuire finally got into the end zone and the West's defense did the rest, forcing a fumble inside the 5-yard line in the fourth quarter and holding on for a 10-3 win at the East-West Shrine Game on Saturday at Tropicana Field.

"Defense wins championships, and both defenses showed up," said San Diego State linebacker Calvin Munson, who recovered the late fumble. "It was fun getting after them and just a good time all around. It was challenging learning a new defense, but everybody rallied together. It wasn't, 'I'm going to do better than you.' Everybody helped each other out."

Louisiana-Lafayette's McGuire was one of three West running backs to top 40 yards, while the East could muster only 37 as a team. His 18-yard score with 12:38 left was the game's only touchdown.

"Wonderful — the game was all fun, but to get a win was another thing," McGuire said. "For me to actually contribute to the win was beautiful. … It all starts with the O-line. They did a great job blocking up front."

Michigan's De'Veon Smith, one of the game's most heralded players, managed just 23 yards on 11 carries. He was stopped on fourth and 1 early in the fourth quarter then fumbled inside the 5 as the East looked to tie the score late.

The West defense — with familar names such as Armwood's Leon McQuay (USC) and Illinois' Hardy Nickerson, son of the former Bucs linebacker — held the East to 3-of-15 on third downs. The West got to the 2-yard line on the opening drive but was stopped there, with a 3-3 tie persisting into the fourth quarter.

"All week in practice, getting to know each other, we just got better," said McQuay, who had two tackles in the win.

Arkansas defensive end Deatrich Wise had a game-high eight tackles and 11/2 sacks for the West, but it was Florida Atlantic's Trey Hendrickson who won defensive MVP honors with a sack-fumble for the East. McGuire was named offensive MVP.

The game's sixth straight appearance at Tropicana Field drew 22,198, down slightly from last year's 23,006, when the attendance went up for a third year in a row.

Contact Greg Auman at gauman@tampabay.com and (813) 310-2690. Follow @gregauman.
East-West Shrine Game: West beats East 10-3 in defensive battle