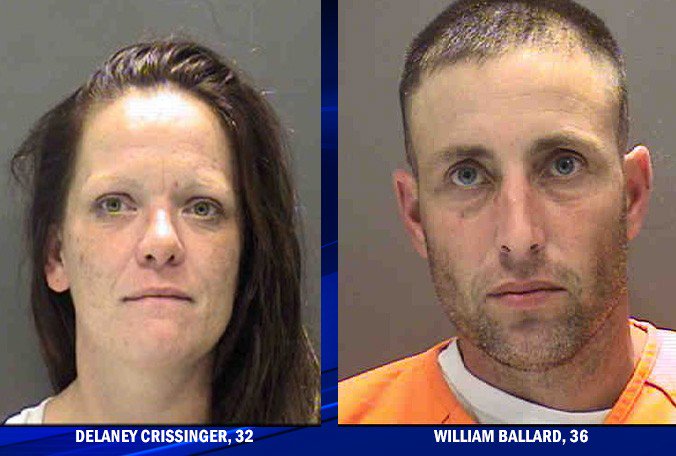 Manatee County couple overdoses with infants in backseat, sheriff's office says
WEATHER: LIVE Klystron 9 radar | Get Bay News 9+ app | Sign up for news alerts
According to the Sheriff's Office, Crissinger was holding a baggy containing methamphetamine.
Upload pictures to Bay News 9 from the app
Get instant Severe Weather & Breaking News alerts delivered directly to your cell phone or email with Bay News 9 NOW .
Manatee County couple overdoses with infants in backseat, sheriff's office says
A Manatee County couple was arrested after sheriff's deputies said the man and woman were passed out in a car with two infants in the backseat.

@BN9: Deputies: Manatee County couple overdoses with infants in backseat of SUV
A Manatee County couple was arrested after sheriff's deputies said the man and woman were passed out in a car with two infants in the backseat.

The Sarasota County Sheriff's Office responded last week to the Texaco gas station on East Road in Sarasota.

William Ballard, 36, and Delaney Crissinger, 32, were found in the front seat of an SUV with its engine running.

The infants, 5 months and 18 months, were secured in car seats in the back of the vehicle.

According to the Sheriff's Office, Crissinger was holding a baggy containing methamphetamine. A search of the vehicle produced fentanyl and heroin, along with other drug paraphernalia.

Ballard was charged with child neglect, possession of heroin with intent to sell, possession of meth with intent to sell and driving with a suspended license.

Crissinger was charged with child neglect, possession of meth and possession of narcotics equipment.

Both were placed in the Sarasota County Jail. Ballard was placed under $30,120 bond, and Crissinger's bond was set at $17,000.
Manatee County couple overdoses with infants in backseat, sheriff's office says