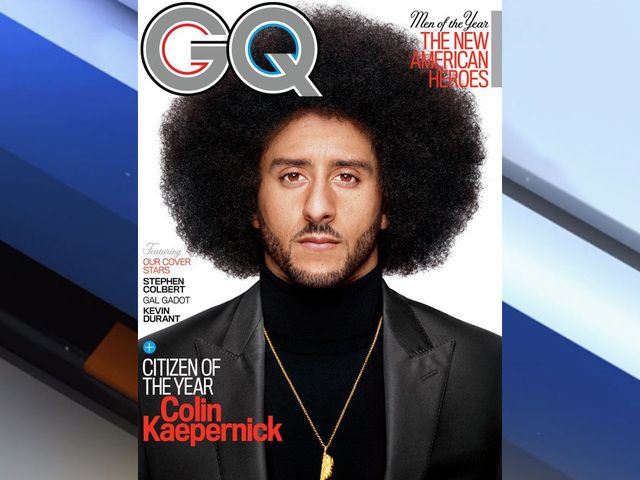 Colin Kaepernick named Citizen of the Year by GQ Magazine
Colin Kaepernick is one of the faces of GQ's December issue.The magazine named the former 49ers quarterback its "Citizen of the Year" for starting the protest that became a movement in the NFL.
"He's been vilified by millions and locked out of the NFL — all because he took a knee to protest police brutality," GQ wrote in a news release about the cover.
"Colin Kaepernick's determined stand puts him in rare company in sports history: Muhammad Ali, Jackie Robinson — athletes who risked everything to make a difference.
The protests grew this year to dozens of other players and to other sports, and President Trump called for the firing of any protesters.Related: Papa John's says NFL protests are hurting salesKaepernick has been on the cover of GQ before, but for his athletic skill.
"Approximately 90 men are currently employed as quarterbacks in the NFL, as either starters or reserves, and Colin Kaepernick is better — indisputably, undeniably, flat-out better — than at least 70 of them.
Former NFL quarterback Colin Kaepernick was named "Citizen of the Year" Monday morning by GQ magazine.

@abcactionnews: Colin Kaepernick named Citizen of the Year by GQ Magazine
Colin Kaepernick is one of the faces of GQ's December issue.

The magazine named the former 49ers quarterback its "Citizen of the Year" for starting the protest that became a movement in the NFL.

"He's been vilified by millions and locked out of the NFL — all because he took a knee to protest police brutality," GQ wrote in a news release about the cover. "Colin Kaepernick's determined stand puts him in rare company in sports history: Muhammad Ali, Jackie Robinson — athletes who risked everything to make a difference."

Kaepernick first knelt during the National Anthem at a preseason game last year to protest mistreatment of black Americans, particularly by police. The protests grew this year to dozens of other players and to other sports, and President Trump called for the firing of any protesters.

Related: Papa John's says NFL protests are hurting sales

Kaepernick has been on the cover of GQ before, but for his athletic skill. Now he's on the cover because he's not playing.

"And it's not because he's hurt, or because he's broken any rules, or because he's not good enough," GQ said. "Approximately 90 men are currently employed as quarterbacks in the NFL, as either starters or reserves, and Colin Kaepernick is better — indisputably, undeniably, flat-out better — than at least 70 of them."

Kaepernick is not interviewed for the issue but appears in a photo spread. GQ…