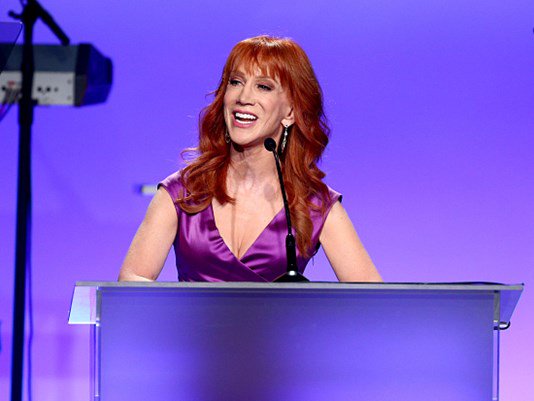 CNN fired Kathy Griffin from their New Year's Eve program
Kathy Griffin will no longer appear with Anderson Cooper on New Year's Eve.
A day after Griffin released a photograph holding a mock "decapitated" head of President Trump, CNN announced they have terminated their contract with the comic.
"CNN has terminated our agreement with Kathy Griffin to appear on our New Year's Eve program," the network tweeted on Wednesday afternoon.
"For the record, I am appalled by the photo shoot Kathy Griffin took part in," Griffin's New Year's co-host said.
Late Tuesday Griffin took to Twitter to apologize for the image.
Kathy Griffin will no longer appear with Anderson Cooper on New Year's Eve.

@10NewsWTSP: #CNN gives Kathy Griffin the boot following photo meant to resemble beheaded President Trump
Kathy Griffin will no longer appear with Anderson Cooper on New Year's Eve.

A day after Griffin released a photograph holding a mock "decapitated" head of President Trump, CNN announced they have terminated their contract with the comic.

"CNN has terminated our agreement with Kathy Griffin to appear on our New Year's Eve program," the network tweeted on Wednesday afternoon.

Late Tuesday, the language CNN used was even stronger. "We found what she did disgusting and offensive," read a statement sent to USA TODAY by CNN spokesperson Shimrit Sheetrit.

Cooper tweeted that he was "appalled." "For the record, I am appalled by the photo shoot Kathy Griffin took part in," Griffin's New Year's co-host said. "It is clearly disgusting and completely inappropriate."

Late Tuesday Griffin took to Twitter to apologize for the image. "I crossed the line," she said. "I went way too far. The image is too disturbing, I understand how it offends people. It wasn't funny. I get it. I've made a lot of mistakes in my career, I will continue to. I ask for your forgiveness."