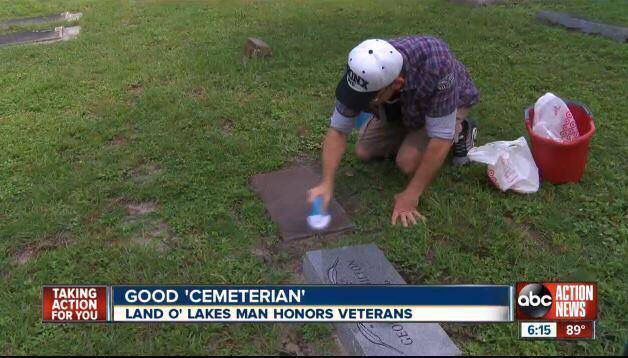 Carpet cleaner scrubs veterans' grave stones at cemeteries his spare time
LUTZ, Fla. – As a self-employed carpet cleaner, Andrew Lumish of Land 'O Lakes gets only one day off a week.
And on most of those Sundays he  uses  his cleaning skills to honor veterans and their families-  anonymously.
"The tombstones themselves are typically in poor condition" explains Lumish as he unloads cleaning supplies from his work van at the Lutz Cemetery.
Lumish has done research to find products that will clean limestone, slate, marble and granite without damaging the stone.
In the two and half years Lumish has been visiting cemeteries around the Bay Area, he's never been chased away.
Carpet cleaner, Andrew Lumish of Land 'O Lakes uses his spare time and expertise in cleaning to scrub the grave markers of Bay Area veterans

@THEANTHEMGIRL: Carpet cleaner scrubs veterans' grave stones at cemeteries his spare time Watch:
LUTZ, Fla. – As a self-employed carpet cleaner, Andrew Lumish of Land 'O Lakes gets only one day off a week. And on most of those Sundays he  uses  his cleaning skills to honor veterans and their families-  anonymously. Until now.

"The tombstones themselves are typically in poor condition" explains Lumish as he unloads cleaning supplies from his work van at the Lutz Cemetery.

On this Sunday, Lumish has identified three grave markers, so dirty, the inscription can barely be read.

"It's something that I feel I should do to give them the proper respect for fighting for our country. And they may not any family still living."

Lumish has done research to find products that will clean limestone, slate, marble and granite without damaging the stone.  He's a history buff who researches the lost veterans who served in conflicts dating back to the Civil War.

"These aren't just stones sitting in a cemetery in Florida. These are real people I think about their lives."

In the two and half years Lumish has been visiting cemeteries around the Bay Area, he's never been chased away.

"I may be trespassing right, but it's a good kind of trespassing.  And I'll take that all day."
Carpet cleaner scrubs veterans' grave stones at cemeteries his spare time