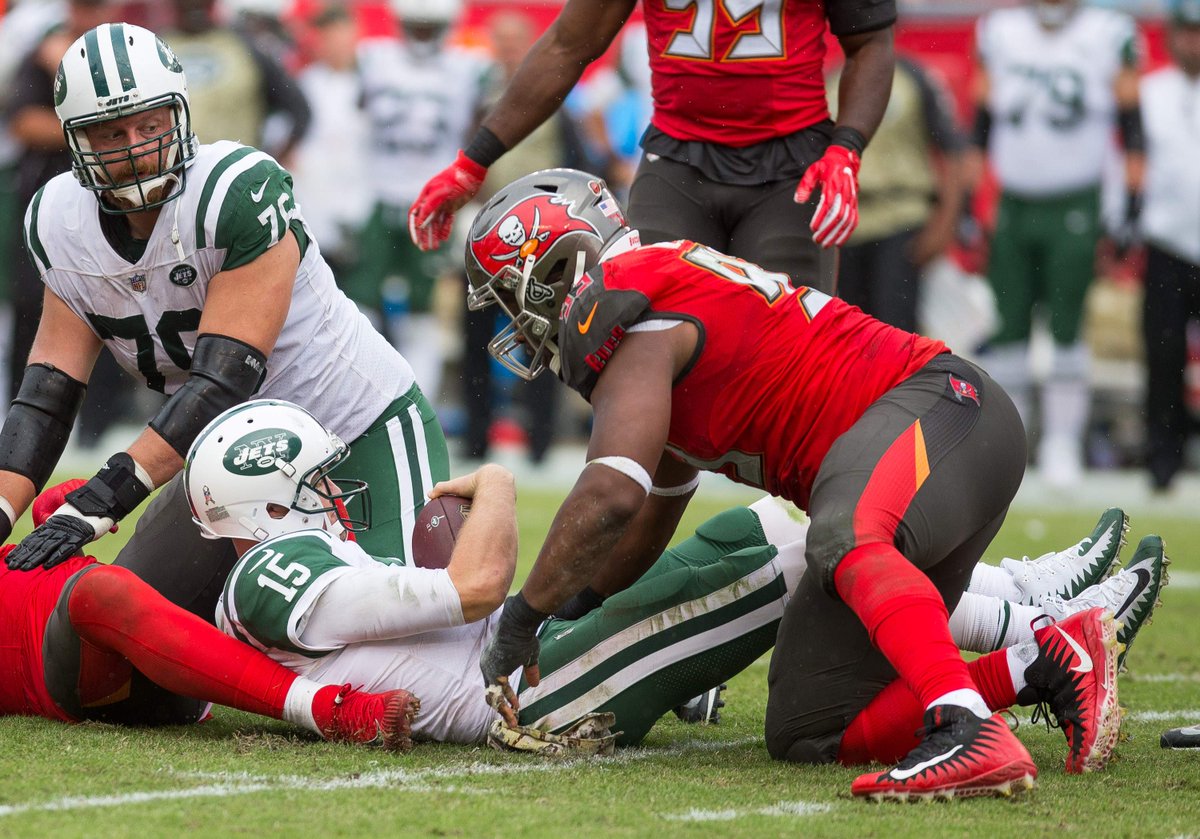 Bucs-Jets report card: This win was no masterpiece, but it counts just the same
So that was the scene in the home locker room on Sunday following Tampa Bay's 15-10 victory against the Jets.
With that in mind, Times columnist Tom Jones hands out his grades for Sunday's game.
GRADE: D. – – Each season, the Bucs have a special moment around Veterans Day when the armed services swear in a group of young people at halftime.
Or we can look at the bright side and commend the Bucs and general manager Jason Licht for moving on from Aguayo and then moving on from the guy who replaced Aguayo (Nick Folk).
GRADE: A. – – GOING OUT WITH A BANG – – More than an hour after the game, the pirate ship in the end zone was blasting off the cannons.

TAMPA — The last time the Bucs won a football game was two years ago. Actually, before Sunday, it was Oct. 1. But in the NFL, when you go more than a month without a victory, it always feels worse th

@TB_Times: Bucs-Jets report card: This win was no masterpiece, but it counts just the same @TB_Times
TAMPA — The last time the Bucs won a football game was two years ago. Actually, before Sunday, it was Oct. 1. But in the NFL, when you go more than a month without a victory, it always feels worse than it really is. Five-game losing streaks are rare in the NFL. To win a game after that long of a drought calls for parades and champagne. At the very least, it calls for some smiles and loud music in the locker room. So that was the scene in the home locker room on Sunday following Tampa Bay's 15-10 victory against the Jets. With that in mind, Times columnist Tom Jones hands out his grades for Sunday's game.

If this game was a Broadway play, there wouldn't be much hope of its run lasting more than a day or two. Put it this way: this wasn't "Hamilton''. And with career journeymen Ryan Fitzpatrick and Josh McCown being the starting quarterbacks, it was like showing up for "Hamilton'' and finding out Lin-Manuel Miranda is out and has been replaced by Scott Baio. A win is a win and the Bucs aren't going to throw it back. But entertainment value? GRADE: D.

Each season, the Bucs have a special moment around Veterans Day when the armed services swear in a group of young people at halftime. It's a powerful moment, particularly when you see just how young these kids look. And, in…
Bucs-Jets report card: This win was no masterpiece, but it counts just the same