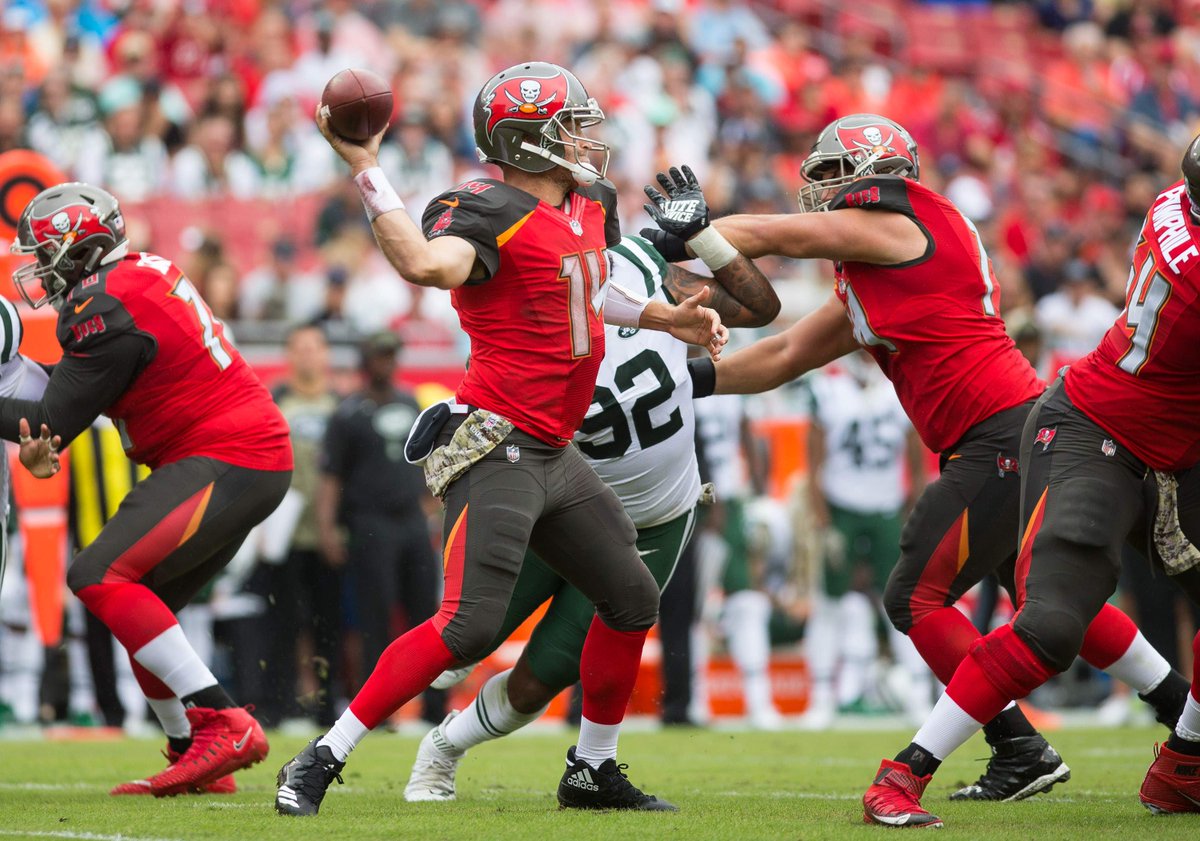 Bucs-Jets: A by-the-numbers look at Tampa Bay's 15-10 win
Bucs wins this season against their former quarterbacks (Mike Glennon in Week 2 and McCown on Sunday).
Career interceptions for Bucs cornerback Brent Grimes, who picked off a McCown pass in the second quarter.
He came into the game Sunday with a 70.4 completion percentage, the league's second-best percentage (Drew Brees, 71.6).
Tampa Bay won all three times (Bears in Week 2, Giants in 4 and the Jets on Sunday).
Bucs rushing yards Sunday, 47 of which they gained in the fourth quarter.

Here's a by-the-numbers look at the Bucs' 15-10 win over the Jets on Sunday:6Teams Ryan Fitzpatrick has started for and won a game with. The other quarterbacks to accomplish that feat: Steve Beuerlei

@TB_Times: Bucs-Jets: A by-the-numbers look at Tampa Bay's 15-10 win @TB_Times
Here's a by-the-numbers look at the Bucs' 15-10 win over the Jets on Sunday:

Teams Ryan Fitzpatrick has started for and won a game with. The other quarterbacks to accomplish that feat: Steve Beuerlein, Chris Chandler, Gus Frerotte, Josh McCown, Earl Morrall and Vinny Testaverde.

Bucs wins this season against their former quarterbacks (Mike Glennon in Week 2 and McCown on Sunday).

Career interceptions for Bucs cornerback Brent Grimes, who picked off a McCown pass in the second quarter. Only four active players have more (DeAngelo Hall, Terence Newman, Reggie Nelson and Aqib Talib).

McCown's completion percentage against the Bucs. He came into the game Sunday with a 70.4 completion percentage, the league's second-best percentage (Drew Brees, 71.6).

Fumbles Bucs linebacker Lavonte David has recovered this season. He recovered Bilal Powell's fumble in the third quarter.

Fumbles David has recovered in his career, which began in 2012. Texans defensive end J.J. Watt is the only defender to recover more in that span.

Rushing yards the Bucs allowed last week. The Saints averaged 4.7 yards a carry.

Rushing yards the Bucs allowed Sunday. The Jets averaged 2.9 yards a carry.

Times this season the Bucs have held an opponent to less than 100 rushing yards. Tampa Bay won all three times (Bears in Week 2, Giants in 4 and the Jets on Sunday).

Bucs rushing yards Sunday, 47 of which they…