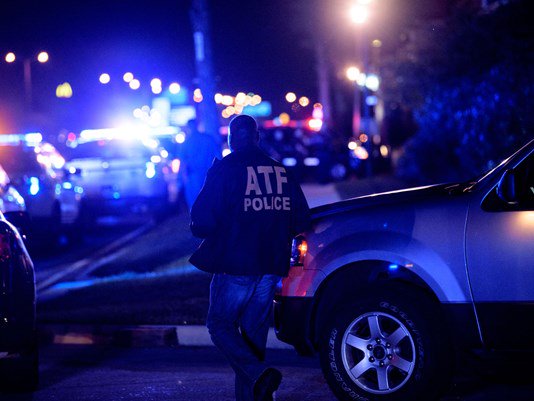 New Orleans Police officer shot and killed in N.O. East
NEW ORLEANS, LA. – A New Orleans Police officer was shot and killed by a suspect following a stop in New Orleans East around midnight Friday.
"Our officer has expired," Superintendent Michael Harrison said.
Harrison said four officers made an observation that caused them to exit their police vehicles when a suspect opened fire, striking the officer several times.
Harrison said that one or two of the officers returned fire, possibly striking the suspect, who then ran into a nearby apartment.
New Orleans Mayor Mitch Landrieu was on the scene and asked for prayers for the officer.
Police officer shot and killed while on duty in New Orleans East Friday, October 13, just after midnight.

@10NewsWTSP: BREAKING: #NewOrleans police officer shot and killed overnight
NEW ORLEANS, LA. – A New Orleans Police officer was shot and killed by a suspect following a stop in New Orleans East around midnight Friday.

The incident occurred near the intersection of Tara Lane and Lake Forest Boulevard just after midnight.

"Our officer has expired," Superintendent Michael Harrison said. The name of the officer had not been released at this time at the request of the family. "This hurts. I can't begin to tell you how much this hurts."

Story continues under video

Harrison said four officers made an observation that caused them to exit their police vehicles when a suspect opened fire, striking the officer several times. The injured officer collapsed at the scene.

Harrison said that one or two of the officers returned fire, possibly striking the suspect, who then ran into a nearby apartment. Several officers surrounded the apartment, while others rendered aid to the wounded officer and alerted EMS.

He was transported to University Medical Center where he expired, according to Harrison.

Officers and SWAT members negotiated with the suspect, who surrendered and was taken to University Hospital, where he is being treated. He is under arrest.

There is a large police presence at Cypress Parc Apartments near where the shooting happened. The NOPD, Louisiana State Police and Bureau of Alcohol, Tobacco, Firearms and Explosives are investigating the scene.

"There was only one gunman," said Harrison,…