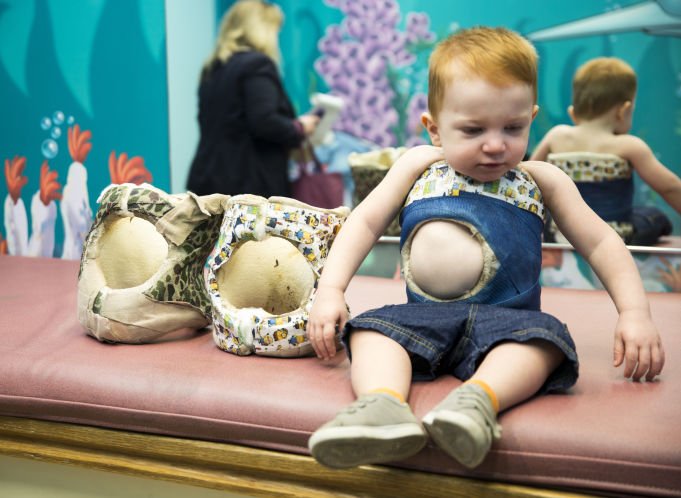 Brandon boy is a pint-sized medical pioneer
But these inconveniences are slight when compared to the health complications L.J. — short for Little John — might have faced if his congenital scoliosis had not been treated early at Shriners Hospitals for Children — Tampa.
They have treated five children with Mehta casting since January, when L.J. was fitted with the first of three casts that will train his spine to grow straighter.
For children with milder scoliosis, Mehta casting is a much less expensive alternative to surgery, and doesn't come with the same risks, Khoury said.
So Goad was relieved, in a way, when Shriners diagnosed L.J. with congenital scoliosis at 2 months.
Parents, desperate for a solution to their kids' early onset scoliosis, raised money and organized for Mehta to visit pediatric hospitals in the U.S. and teach the technique to surgeons.

TAMPA — L.J. Lovegrove can't play in the sandbox. He can't go to the beach or splash around in the pool. And the red-haired, precocious 19-month-old can only go to theme parks in the winter, wh

@tbtnewspaper: Brandon boy is a pint-sized medical pioneer:
TAMPA — L.J. Lovegrove can't play in the sandbox. He can't go to the beach or splash around in the pool. And the red-haired, precocious 19-month-old can only go to theme parks in the winter, when he won't sweat into the plaster cast that wraps around his chest, back and belly.

But these inconveniences are slight when compared to the health complications L.J. — short for Little John — might have faced if his congenital scoliosis had not been treated early at Shriners Hospitals for Children — Tampa. He is the first in Florida to undergo Mehta casting, a relatively new procedure that corrects irregular twisting of the spine that, if left untreated, can lead to lung and heart problems.

"This was the only option we had, so we just took it," L.J.'s mom, Sonya Goad, said of the procedure during a doctor's visit at Shriners on Friday.

"And it's working," the Brandon resident said. "I'm really happy about it."

Shriners orthopaedic surgeons Cheryl Lawing and Joseph Khoury are the first doctors in Florida to perform the procedure, according to the hospital. They have treated five children with Mehta casting since January, when L.J. was fitted with the first of three casts that will train his spine to grow straighter.

Since then, the curve in his spine has decreased from 80 to 50 degrees — an improvement that boosts the likelihood of successful surgeries in the future, the doctors explained.

For children with milder scoliosis, Mehta casting is a much less expensive alternative to surgery, and doesn't come with the same risks, Khoury said. The technique, usually performed on children younger than 3, cures scoliosis completely in about half of all cases.

While the procedure won't alleviate the kinds of scoliosis that children like L.J. are born with, casting often delays the need for surgery. And the older scoliosis patients are when they go under the knife, the Shriners surgeons said, the less vulnerable they will be to infections and cardiopulmonary problems.

That's why it's important to build awareness around early onset scoliosis, Khoury said.

"A lot of people don't realize babies can have scoliosis," he said. "And they often aren't looking for it."

The condition affects 2 to 3 percent of the population, or about 7 million people in the United States, according to the National Scoliosis Foundation.

Doctors detected L.J.'s twisted spine when Goad was 22 weeks pregnant. She was warned that L.J. might have kyphosis, otherwise known as "hunchback" — or worse, spina bifida. L.J. might never walk, she was told.

So Goad was relieved, in a way, when Shriners diagnosed L.J. with congenital scoliosis at 2 months. He looked like a small half-moon in his baby photos, his shoulders and hips off-kilter. And he is short for his age, a symptom of the condition.

The cast, which he cannot get wet, prevents him from playing hard with other kids. And he gets stares sometimes; the bulky cast, stuffed beneath his shirt, makes him look like a little linebacker.

But because his scoliosis was caught early, he will likely lead a healthy, normal life, beyond the series of surgeries he will undergo through adolescence, his doctors said.

For the casting, L.J. is put under general anesthesia and suspended midair in a custom-built contraption. Flat metal bars rest beneath his tailbone and shoulders, and his head is supported by a soft sling. The setup allows the surgeon to add pressure to his spine at three different points and gently twist it in the correct direction.

A fresh cast is applied three times over the course of six months; each session takes about 30 minutes. The casts can cause skin irritation, in some cases, but no pain.

Orthopaedic surgeon Min H. Mehta developed the method in the 1960s, but it didn't take off until the early 2000s. That's when parents started researching medical conditions on the Web and discovered the then-obscure Mehta casting. Parents, desperate for a solution to their kids' early onset scoliosis, raised money and organized for Mehta to visit pediatric hospitals in the U.S. and teach the technique to surgeons.

The Shriners in Salt Lake City and Erie, Pa., were the first hospitals to adopt the approach. Twelve years later, Mehta casting is now an available treatment in most states.

Khoury predicts that Mehta casting will become more common in coming years. But for now, L.J. is a tiny trailblazer in Florida.

On Friday, his hips hinged forward below his cast as he picked up a plastic truck in the Shriners examination room. He investigated the toy for a moment, as if he was deciding whether it was worth his attention, and then slammed it onto the floor.

"He's a spitfire," Goad said, laughing. "The cast is almost a blessing, in a way. Keeps him out of trouble."