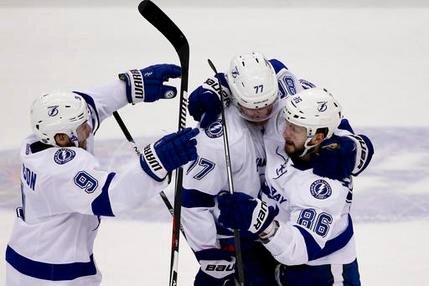 Lightning stage rally, beat Penguins 4-3 in OT
Barely 30 seconds later, Kucherov collected a rebound off Johnson's shot, skated behind the net and tucked it in before Fleury could scramble over in time to push it beyond regulation for the second time in five games.
Sullivan turned to the franchise's all-time winningest goaltender for the third period of Game 4 after Murray surrendered four goals and stuck with Fleury after watching him turn aside all seven shots he faced as the Penguins nearly came all the way back.
Killorn drew Tampa Bay within a goal 13:15 into the second on a wrist shot from the left circle that went in and out of the goal so quickly play continued for a few seconds before referees pointed to the red goal light.
Tyler Johnson deflected Jason Garrison's wrist shot past Marc-Andre Fleury's glove 53 seconds into overtime to give the Lightning a 4-3 win over the Pittsburgh Penguins in Game 5 of the Eastern Conference finals on Sunday night to take a 3-2 lead in the best-of-seven series.
When Johnson's shot hit the back of the net, the Lightning were on the cusp of another appearance in the Cup finals and the Penguins were on the brink of elimination for the first time in the postseason.
Read the full article, click here.
---
@BN9: "BHSN: Bolts rally, strike in OT, beat Pens 4-3 in Game 5. TB leads series 3-2."
---
The Tampa Bay Lightning are one win away from a return trip to the Stanley Cup Final after beating Pittsburgh 4-3 in overtime Sunday night.
---
Lightning stage rally, beat Penguins 4-3 in OT