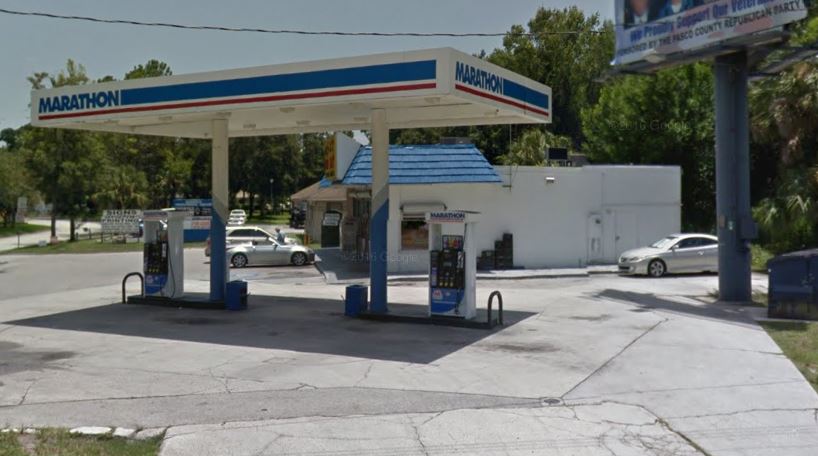 Armed robbery suspect shot by customer in Lutz
Armed robbery suspect shot by customer in Lutz
Pasco Sheriff's Office investigates the Thursday morning shooting of an armed robbery suspect at 26556 Wesley Chapel Boulevard in Lutz.
Christopher Michael Lilly was identified by Pasco Sherff's Office as the armed robbery suspect shot in the leg by a customer on Thursday morning.
@PascoSheriff says he shot armed thief & stopped a robbery in progress #WTSP #Lutz pic.twitter.com/d3vjKeK68D
Customer shoots suspected robber
% INLINE %

@10NewsWTSP: Armed robbery suspect shot by customer with CCW permit in Lutz. DETAILS:
PASCO COUNTY, Fla. — An armed suspect was shot in the hip by a customer with a concealed carry weapons permit during a robbery attempt at a Lutz gas station Thursday morning.

The suspect, identified as Christopher Michael Lilly, 30, allegedly pointed a firearm and demanded money from the employee of the Marathon gas station at 26556 Wesley Chapel Boulevard around 6:40 a.m.

Pasco Sheriff Chris Nocco said that the gun-carrying citizen pointed his handgun at Lilly and fired once, missing Lilly. Lilly then struggled with the individual and dropped the gun. During the altercation Lilly allegedly reached for the handgun, prompting the other man to shoot him once in the hip.

Pasco Sheriff's Office arrived at the scene as the customer and Lilly were struggling and were able to subdue the suspect. He was transported by helicopter to the hospital for treatment of non-life threatening injuries.

Stay with 10News for more from this developing story.