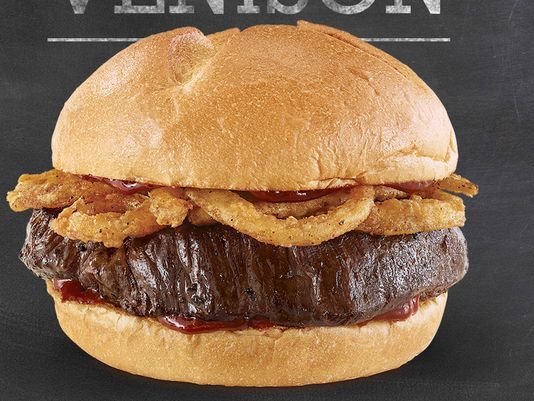 Arby's tests elk sandwiches and adds venison nationwide
The fast-food chain known for having "the meats," is putting its money where its mouth is this year with the release of venison sandwiches nationwide, and elk sandwiches in select markets.
Arby's venison sandwiches will be available on Saturday, Oct. 21 in all 3,300 restaurants across the country, and a limited-edition Elk Sandwich will be available in three restaurants in the states of Colorado, Wyoming and Montana.
The venison sandwiches, which were first sold in a handful of states last year and sold out in minutes, are available while supplies lasts and will likely to sell out quickly, Arby's Chief Marketing Officer Jim Taylor.
Taylor said the company used social media and feedback from hunters and wild game enthusiasts to create the venison and elk sandwiches.
The elk sandwich will be available along with the venison sandwich at the following restaurants:
The venison sandwiches will be available starting in late October while supplies last and are expected to sell out quickly.

@10NewsWTSP: Arby's tests elk sandwiches and adds venison nationwide
The fast-food chain known for having "the meats," is putting its money where its mouth is this year with the release of venison sandwiches nationwide, and elk sandwiches in select markets.

Arby's venison sandwiches will be available on Saturday, Oct. 21 in all 3,300 restaurants across the country, and a limited-edition Elk Sandwich will be available in three restaurants in the states of Colorado, Wyoming and Montana.

The venison sandwiches, which were first sold in a handful of states last year and sold out in minutes, are available while supplies lasts and will likely to sell out quickly, Arby's Chief Marketing Officer Jim Taylor.

"If people are interested in trying the sandwich, the only way to guarantee they can get one is to get  there when we open or a little before and make sure they are in line, just like the folks last year," he said.

The fast-food chain uses a supplier in New Zealand that sells grass-fed free-range venison, according to Taylor. He said it took a year to work with suppliers to secure enough product for what he believes is the "biggest venison promotion in the world any restaurant" has ever done. 

The venison sandwich features a thick-cut venison steak and crispy onions with a berry sauce on a toasted roll, according to the company.

Taylor said the company used social media and feedback from hunters and wild game enthusiasts to create the venison and…