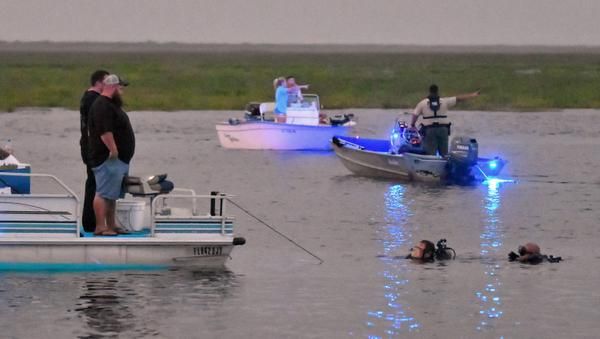 Airboat accident in gator-infested waters kills 2 people
MELBOURNE, Fla. — Two boaters were found dead Sunday night in alligator-infested waters after an airboat accident west of Cocoa.
Florida Fish and Wildlife Conservation Commission officials and the Brevard County Sheriff's Office spent several hours Sunday night searching for the pair, but both were found dead.
The incident was first reported about 5 p.m. ET Sunday at the River Lakes Conservation Area across from Lone Cabbage Fish Camp, a popular stop for tourists and locals wanting flat-bottom boat rides through the surrounding grassy marshland or access to the St. Johns River.
"The guy was driving kind of fast and he turned in his own wake … he ended up flipping his airboat," said 31-year-old Timothy Young, who was at the north side boat ramp at Lone Cabbage, fishing with friends.
Airboat accidents are rare, according to Florida Fish and Wildlife Conservation Commission statistics.
The names of the four men on board the airboat were not released and the investigation continues

@10NewsWTSP: Airboat accident in gator-infested waters kills 2 people
MELBOURNE, Fla. — Two boaters were found dead Sunday night in alligator-infested waters after an airboat accident west of Cocoa.

Florida Fish and Wildlife Conservation Commission officials and the Brevard County Sheriff's Office spent several hours Sunday night searching for the pair, but both were found dead.

Two other boaters who made it to shore are doing OK, the FWC said.

"It's definitely not the turnout we like or expect," Chad Weber, with the FWC, told Florida Today news partner WKMG-TV.

Weber did not confirm whether the two men whose bodies were recovered were wearing life jackets.

"Boating, even though it's a recreation activity, can be dangerous," he said. "Just take precautions. You can't plan for every accident, but life jackets save lives, so wear a life jacket."

The names of the four men on board the airboat were not released and the investigation continues.

The incident was first reported about 5 p.m. ET Sunday at the River Lakes Conservation Area across from Lone Cabbage Fish Camp, a popular stop for tourists and locals wanting flat-bottom boat rides through the surrounding grassy marshland or access to the St. Johns River.

"The guy was driving kind of fast and he turned in his own wake … he ended up flipping his…